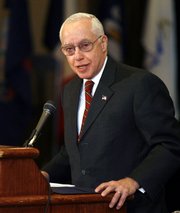 Park City, Utah — A federal list of mentally ill people barred from buying guns has doubled in size since the Virginia Tech shootings, and U.S. Attorney General Michael Mukasey encouraged more states Thursday to add information to the database.
In his first policy speech since taking over as attorney general early this month, Mukasey said states have now reported 393,957 mentally ill people to the federal database used to screen the backgrounds of potential gun-buyers. As of last July, three months after the Virginia Tech shootings, states had submitted only 174,863 names to the database.
People are included in the federal database only after courts or other authorities have found them to have mental health problems, Justice Department officials said. Federal agencies, including the Defense and Veterans Affairs departments, also submit names, but the Justice Department could not immediately say how many.
Currently, 32 states submit names to the mental health database, and the federal government cannot force the other 18 to follow suit.
Virginia Tech student Seung-Hui Cho killed 32 people and himself in the deadliest campus shooting in U.S. history. He bought two guns - a Glock 9 mm at a Virginia store and a .22-caliber pistol over the Internet - despite a special justice's 2005 order to get outpatient treatment for being a danger to himself.
Shortly after the Virginia Tech shootings, officials said Virginia had given 81,233 names to the FBI. Michigan had the second-largest submission of names then, with 73,382, the Justice data show.
By comparison, California had submitted only 27 names of mentally ill people to the database as of April 30. Since then, the state has given more than 200,000 names to the list, Justice officials said.
Copyright 2018 The Associated Press. All rights reserved. This material may not be published, broadcast, rewritten or redistributed. We strive to uphold our values for every story published.