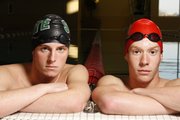 At the end of last season, Free State High swimming coach Annette McDonald knew the outlook for this year's campaign. The Firebirds said goodbye to eight senior leaders at the end of state competition, leaving the eighth-year coach facing one simple fact.
"What we have is a new and young team," McDonald said. "As a young team, we're building."
Only three seniors - Mitch Moore, Kendall Harris and Drew Braden - return to lead a team made up predominantly of underclassmen and newcomers.
Moore, a year-round swimmer, was strong in the butterfly and breaststroke last year and hopes to maintain that momentum through the season and ultimately to another appearance at state.
Harris, a swimmer since his sophomore year, was part of last year's 200-yard freestyle relay team, while Braden, whose specialty is the butterfly, was instrumental in the team's success during last year's league meet. Juniors Alec Wroten, Julian McCafferty and Eric Gruber, swimmers since their freshmen years, bolster the roster with added experience.
Wroten, mainly a participant in the butterfly last season, gives the Firebirds versatility in a several races, an attribute McDonald looks forward to utilizing.
"He's very versatile," McDonald said. "He could be instrumental in a number of events for us."
Gruber specializes in the breaststroke, giving Free State a strong option in the event, while McCafferty gives the Firebirds experience in the 100- and 500-yard freestyle events.
In addition to the underclassmen, the Firebirds welcome several new swimmers to the fold.
Freshman brothers Will and Tony Libeer along with Nolan Frank look to add new dimensions to areas - particularly the backstroke - vacated by seniors.
"Last year we lost Chase Torgerson, and he was our main backstroker, and we're really excited about (the new swimmers)," McDonald said. "They're young, they're strong, and look like they can contribute a lot for us."
The Firebirds open the season with the Topeka West Relays today in Topeka.
Across town, Lawrence High coach Kent McDonald will face some of the same challenges as the Firebirds.
The Lions finished in the top 25 during last year's trip to state, an improvement over previous years, but not exactly where the team had hoped to be.
"We thought we could do better," Kent McDonald said. "But we lost three seniors who were instrumental in making state. They were a part of the relays, and this year we have a young team, and it may be harder to repeat that."
Returning seniors Alex Boyer and Zach Henderson were state qualifiers last year. Boyer placed in the 500-freestyle at state, while Henderson took part in the 100-butterfly and relays.
In the breaststroke, the Lions return junior Will Pendleton, while seniors Walter Summers and Andy Kreigh should lend the team versatility up and down the event board. Junior Skyler Criswell, who competed in the one-meter dive at state last season, also returns.
"A lot of these guys can do different events because they can do different strokes," Kent McDonald said. "That's what we're looking for. We need people who can do more than freestyle."
The Lions will welcome a handful of new members to the squad, including many athletes from the cross country team.
"The young guys, it's more of a challenge," Kent McDonald said. "With the older guys, I give them a workout, and they go and do it. We may have to tweak their stroke a little bit, but that's it. The younger guys, some of them didn't even know any strokes other than freestyle. And a lot of times it's starting from scratch and helping them develop a good stroke and then move on to the next stroke."
Despite the adjustments prior to the season-opening meet Dec. 5 at Manhattan, there is one thing McDonald will not have to worry about
"The one thing about the new guys that I've been impressed with is that they're willing to do the work," he said. "When I give them a workout or something to do, they do it. I don't have to watch them. I do, but I don't have to."
Copyright 2018 The Lawrence Journal-World. All rights reserved. This material may not be published, broadcast, rewritten or redistributed. We strive to uphold our values for every story published.