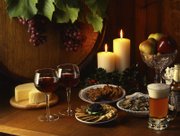 Sure as Santa's gray beard, your dance card soon will be full of holiday parties.
But if you find yourself on the giving - and not receiving - end of a soiree, success is far from automatic.
Here are some tips for planning the perfect holiday party, as provided by these Web sites: www.lifetips.com, www.vtliving.com and www.catalogs.com:
¢ Invitations: Consider how big your place is when deciding whom to invite. If you're trying to cut down your guest list, think about cutting work friends first - especially if there's a work party where you can socialize with them.
Also, do all your inviting at once - at least three weeks early - so no one feels like they were an afterthought. Web sites like Evite.com make that simple.
If you're worried about things going too late, specify both a beginning time and an ending time on the invitation.
¢ Clothing: Give your guests clues to how they should dress, so they don't feel self-conscious when they arrive too dressy or not dressed up enough.
¢ Hors d'oeurves: Plan for four to six hot hors d'oeurves per person. Avoid gooey, drippy sauces near expensive rugs or furniture. Keep some carpet cleaner on hand, just in case.
¢ Alcohol: Let your guests know if you expect them to bring their own booze. Remember to have alcohol accessories on hand, such as limes, lemons and ice.
Finally: Look after your guests to make sure no one leaves when they're too tipsy.
¢ Smoking: If you don't want smoking in the main part of your house, consider providing a room with a fan blowing outside for smokers. It's also a good idea to let smokers know if you're having a nonsmoking party.
¢ The atmosphere: Background music and scents - candles or a pot of water with cinnamon simmering - can add a lot to put people in the party mood. Keep your TV off to encourage conversation.
Copyright 2018 The Lawrence Journal-World. All rights reserved. This material may not be published, broadcast, rewritten or redistributed. We strive to uphold our values for every story published.