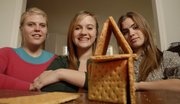 Photo Gallery
Past Gingerbread Festival entries
Past Event
$2 suggested donation
When: Friday, November 30, 2007, 10 a.m. to 7 p.m.
Where: Eldridge Extended, 201 W. Eighth St., Lawrence
-->
-->
Past Event
$35, includes wine and hors d' oeuvres
When: Tuesday, December 4, 2007, 7 p.m.
Where: Eldridge Extended, 201 W. Eighth St., Lawrence
Cost: $35
-->
-->
The Eldridge Hotel's 13th annual Gingerbread Festival & Auction is just around the corner, and the Burke girls have already decided what they will be creating, building and donating to benefit Big Brothers-Big Sisters of Douglas County.
Though they are young, don't underestimate these talented gingerbread house builders; they are veterans.
According to Big Brothers Big Sisters' Northeast Regional Director Becky Price, "Those girls have been builders so long, their houses are as good, if not better, than some of the adults who enter."
The sisters began "building" as soon as they were old enough to enter. Cali, now 17, has been a builder since the first festival, and this will be the 10th year her 15-year-old twin sisters, BryAnn and Ainsley, have entered.
All of the house builders donate their time and creative energy to build a house for an auction benefit, which will be 7 p.m. Dec. 4. Proceeds from the auction are given to Big Brothers Big Sisters to help them promote the healthy development of local at-risk children through one-on-one mentoring relationships with carefully screened, caring adult volunteers.
About 250 people packed the Eldridge Hotel last year to place their bids on 32 extravagantly decorated houses, including a gingerbread version of the White House and Noah's Ark.
Deducting expenses, Big Brothers Big Sisters raised about $28,000, says Meg Hooper, public relations specialist for the agency.
This year the viewings and auction will take place in a new location, The Eldridge Extended, 201 W. Eighth St.
"We're looking to being able to hold more people in the new space," Hooper says. "The Eldridge has left it open for us to move back if we need to."
That extra room hopefully will make an even roomier showcase for the Burke sisters' project.
The girls put a lot of time into planning and decorating their gingerbread houses - the prettier the house, the more money it makes for the agency.
"We spend all year planning out our houses," Ainsley says. "We look through the candy aisle all year long and talk about what we can do with all the different types of candy."
BryAnn says her favorite part is "coming up with ideas."
Cali says she really likes the finished product, and Ainsley agrees that it is always exciting to deliver the houses to the Eldridge.
"We get our laundry baskets out and carefully, carefully put the house in the baskets, then slowly take them out to the van and drive very slowly to the Eldridge," Ainsley said.
"One year we forgot to take extra icing and had to fix something last minute, so we ran down to Joe's Bakery and bought icing from them," BryAnn says.
Gingerbread house viewings begin Friday and continue through Dec. 3 at the Eldridge Extended, 201 W. Eighth St.
To attend or to find out more about the event, please call the Big Brothers Big Sisters office, 843-7359.
Copyright 2018 The Lawrence Journal-World. All rights reserved. This material may not be published, broadcast, rewritten or redistributed. We strive to uphold our values for every story published.