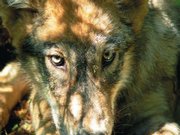 Pray, Mont. — For rancher Randy Petrich, the removal of gray wolves from the endangered species list - a move that would open up the animals to hunting in the Northern Rockies for the first time in decades - couldn't come soon enough.
On the same land where it was once rare to see the animal, Petrich has seen fresh wolf tracks almost every morning this fall - close enough to threaten his cattle.
"I believe that any wolf on any given night, if there happens to be a calf there, they will kill it," Petrich said. "In reality, to help us now, we need to be trapping them, shooting them - as many as possible."
Just 12 years since the wolves were reintroduced into Yellowstone National Park after years of near-extinction, federal officials say the sharp rise in the wolf population in the region justifies removing them from the endangered species list.
Critics, however, say the U.S. Fish and Wildlife Service is moving too fast, and could be setting the stage for a slaughter that would push wolves back to the brink in the Rockies.
For cattle ranchers like Petrich in the Paradise Valley north of Yellowstone, who already have the right to kill predators threatening their stock, the killing of wolves who established new territories outside the park has already begun.
Seven times in the last five years, Petrich, a third-generation rancher, has shot a wolf for killing or harassing cattle.
It took $24 million of federal funds and more than two decades to bring wolves back from near-extinction in the northern Rocky Mountains - the result of a government eradication program in the mid-1900s that included widespread poisoning of wolves.
After years of debate, an initial 66 wolves were transplanted into the park from Canada beginning in 1995.
Now, an estimated 1,545 roam Idaho, Montana and Wyoming - more than enough, federal official say, to justify removing them from the endangered species list.
Environmentalists fighting the plan argue that at least 2,000 to 3,000 wolves are needed in the region to keep them from again disappearing from the American West.
"This is all about wolf killing," said Doug Honnold, an attorney for the environmental group Earthjustice.
In recent years, as the wolf population re-established itself, the number of cattle, sheep and other domestic animals killed by wolves has soared from 123 in 2000 to 330 this year through early October.
The number of wolves killed in response - by ranchers and federal wildlife agents acting on their behalf - increased sevenfold in the same period, from 20 to 146.
Under the plan to delist the animal, hunters and trappers would be allowed to obtain permits to kill wolves. As long as at least 450 wolves survived, the animal would remain fair game. Any fewer and hunting and trapping would be curtailed. If their numbers dropped below 300, they would go back on the endangered list.
Several environmental groups are promising lawsuits to halt delisting. Anticipating court delays, the Fish and Wildlife Service is proposing a backup plan that would keep wolves on the endangered list but loosen restrictions on when they could be killed to protect game animals such as elk - the wolves' natural prey.
Copyright 2018 The Associated Press. All rights reserved. This material may not be published, broadcast, rewritten or redistributed. We strive to uphold our values for every story published.