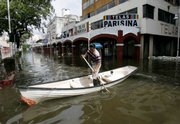 Villahermosa, Mexico — The government knew Mexico's Gulf coast was a disaster in waiting long before three rivers surged out of their banks, flooding nearly every inch of the low-lying state of Tabasco and leaving more than 1 million homes under water.
But officials admit they never finished a $190 million levee project that was supposed to have been done by 2006 and would have held back much of the rising waters that flooded Tabasco at the end of October.
The tragedy was reminiscent of the Hurricane Katrina disaster in 2005, when levees failed and swamped much of New Orleans, forcing people to flee by wading through dirty waters. In Tabasco, days of relentless rain - not a hurricane - were to blame.
The flooding killed at least 33 people in Tabasco and Chiapas states.
With water receding this week, people are returning to clean out their homes as questions pile up over what went wrong. Nadia Gomez, the 24-year-old wife of a car mechanic in a slum on the outskirts of Villahermosa, said the government didn't do enough to protect low-lying neighborhoods.
"Maybe if they had built more defenses it would have been all right. But they only care about the rich people of Tabasco, not the poor," Gomez said, standing with her three children outside her flooded shack.
Both the state and federal government acknowledge Tabasco wasn't prepared for unusually heavy rains that hit in October, even though a flood-control plan had been drawn up after flooding in 1999 left tens of thousands homeless and caused $375 million in damage.
In 2003, officials announced the Integral Project Against Flooding, which called for building 110 miles of levees and 120 miles of drainage canals along the Grijalva, Carrizal and Samaria rivers.
But state officials admit they never finished the levee project, 72 percent of which was funded by the federal government.
It's not known what happened to the money earmarked for the project. State officials say the federal government didn't deliver all the money. Congress members responsible for allocating the funds left office last year and it isn't clear who was responsible for overseeing that part of the budget.
Gilberto Segovia, the Tabasco spokesman for the National Water Commission, said about 70 percent of the levees and drainage canals were built. Although the original plan called for all to be completed by 2006, former Gov. Manuel Andrade, who left office Dec. 31 and was largely responsible for carrying out the levee project, had extended the deadline to 2012.
Fingers also are being pointed at the Federal Electricity Commission.
Critics say it waited too long to let begin letting water out of a dam upstream, forcing workers to release a huge amount in a short time when the reservoir level surged. The agency also gave little warning to people downstream about the impending disaster, critics contend.
Some people also blame deforestation in Mexico's highlands, saying that has lessened the ability of mountainous terrain to absorb heavy rainfall and reduce runoff into low-lying areas like Tabasco.
Copyright 2018 The Associated Press. All rights reserved. This material may not be published, broadcast, rewritten or redistributed. We strive to uphold our values for every story published.