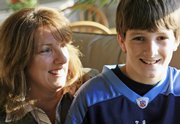 Susan Cole wanted to fly her 12-year-old son Danny from their Maryland home to Houston so he could catch a football game with his dad, who was there on a business trip.
Danny had flown only once or twice, and never alone. So Susan, plenty nervous herself, last month took Danny to Baltimore-Washington International Airport three hours early and accompanied him to the gate.
"I assumed Southwest would let him on early, before the herd of passengers gets on, because I'm not even sure he's tall enough to reach the overhead luggage," Cole said.
Cole said a succession of Southwest employees not only refused to let Danny board early, but also wouldn't promise to help him meet up with his father.
A Southwest executive says the employees were just following company policy.
Southwest escorts children 5 through 11 who are traveling alone, but "once you hit 12, you're considered a youth and not an unaccompanied minor," said Teresa Laraba, the airline's vice president for ground operations.
Each year across the United States, hundreds of thousands of unaccompanied minors take to the skies. Airline officials say the holidays are second only to summer in numbers of solo children, making it a time of year that tests anxious parents and airline policies.
It's hard to know just how often things go wrong with unaccompanied minors. Airlines aren't required to report such incidents, although parents sometimes tell the federal Transportation Department. An agency spokesman said there were 36 complaints through last week, compared to 47 in the same period last year. The most complaints this year have been lodged against US Airways, 9; Delta Air Lines, 8; Northwest Airlines, 4; and American Airlines, 3.
In June, Northwest put two children on the wrong flights in Memphis. Both were reunited with family members - 12 hours late, in one case - and the airline said it was taking steps to avoid similar events.
Last December, a 9-year-old boy headed to Omaha, Neb., to see his father, who was just back from a tour in Afghanistan, was stranded in the Denver airport by a snowstorm. The boy used a stranger's cell phone to call his family. His mother complained about the response from United Airlines after the flight was canceled.
Policies for unaccompanied minors vary throughout the airline industry.
Southwest doesn't charge extra for unaccompanied children, but most other U.S. airlines do. Some parents say they were surprised to get to the gate and then learn that their child's trip would cost an extra fee - up to $100 for domestic trips, more for international ones.
Airlines say they're doing all they reasonably can to safely accommodate more young travelers.
Danny Cole's story had a happy ending. Before leaving the Baltimore airport, an off-duty Southwest flight attendant getting on the same flight promised to stay with him until he met his father in Houston.
But Susan Cole said the episode left her angry and her son crying. She thinks 12 is too young for children to fly unescorted, even if she has to pay extra for the service.
Laraba, the Southwest executive, said the airline has recently heard from other parents who share Cole's opinion. She said the airline is considering changing its policy.
Copyright 2018 The Associated Press. All rights reserved. This material may not be published, broadcast, rewritten or redistributed. We strive to uphold our values for every story published.