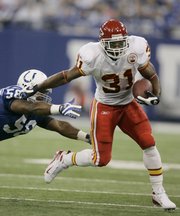 Kansas City, Mo. — Kansas City Chiefs coach Herm Edwards said Tuesday an injury to Priest Holmes was being evaluated amid a report that the running back could be out this week and possibly much longer.
Holmes, 34, went out of the Chiefs' game at Indianapolis briefly last week. A report on FOXSports.com said Holmes re-injured his neck and that his immediate future could be in jeopardy.
Holmes returned to football this year after being out for almost two years due to head and neck injuries he sustained in October 2005. Holmes started the last two games in place of Larry Johnson, who has been declared out for a third straight week due to a foot injury.
Copyright 2018 The Lawrence Journal-World. All rights reserved. This material may not be published, broadcast, rewritten or redistributed. We strive to uphold our values for every story published.