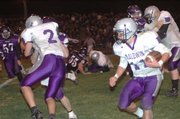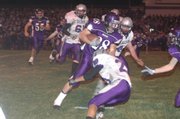 LOUISBURG — No vengeance for Baldwin High.
It started out promising for the Bulldogs, but ended in tears and sadness as their season ended here Friday night.
Baldwin (10-3) fell to Louisburg (13-0) for the second time this season. Friday's 21-14 loss hurt more as the Bulldogs' season came to halt in a Class 4A state semifinal contest.
"I am hurting so bad for our whole team, especially our seniors," Baldwin coach Mike Berg said. "They are such special people. They gave us everything they had. We got beat by a very good team tonight."
All 14 BHS seniors felt as bad or worse than their coach after the game, especially Berg's son, quarterback Drew Berg.
"I feel awful right now," Drew Berg said. "We had a great season, but it just wasn't good enough. This was the most fun team I've ever been a part of. It was great to be with everyone this season."
Baldwin trailed by 14 points late, but mounted a comeback that nearly saved its season. BHS marched 79 yards to cut the Wildcats' lead in half with 3:51 left in the game. Senior Jared Hall scored on a two-yard touchdown run.
The Bulldogs' offense came up with a huge stop to give its offense one final shot. They forced a Louisburg punt after stopping the Wildcats on third down.
Baldwin took over at its own 25 yard line with 1:15 remaining in the contest. During the next four plays, BHS completed only one pass for zero yards. The final BHS play was an interception, which sealed Louisburg's victory and berth in to the 4A state championship game next Saturday in Salina.
"It was a clash of the titans," Mike Berg said. "They are good up front. We are good up front. They have good backs. We have good backs. Both teams made mistakes. Against a good team, you just can't make mistakes."
Louisburg scored a pair of touchdowns early in the fourth quarter to separate itself from the Bulldogs. The first was a 68-yard bomb from Jeff Woods to Colby Kueser.
After a BHS three-and-out, the Wildcats drove 51 yards in six plays. Wildcats' Jason Spradling capped off the drive with a 29-yard touchdown run.
"They are a great team, and I think they are going to win state," Drew Berg said of Louisburg. "They are really classy guys. If I had to lose to a team, I'm glad it is them."
Friday's contest began about as well as it could have for the Bulldogs. Spradling fumbled during the first play of the game. Hall recovered the ball as Baldwin proceeded to drive 35 yards in six plays to take an early 7-0 lead.
However, Louisburg answered back with a blocked punt near the end of the quarter. The Wildcats returned the block 10 yards for a touchdown.
"This was a great season," Mike Berg said. "They are 60 teams that wish they were here, and only four got to play. I am proud to be a part of Baldwin football."
This season was the first since 1988 that Baldwin has reached the state semifinals. It was the furthest Berg has taken a team during his eight-year tenure at BHS.
Louisburg advanced to play the winner of Ulysses and Andale, who play at 6 p.m. tonight. The state title game will be played at 1 p.m. Nov. 24 in Salina.
Copyright 2018 The Lawrence Journal-World. All rights reserved. This material may not be published, broadcast, rewritten or redistributed. We strive to uphold our values for every story published.