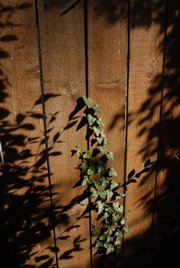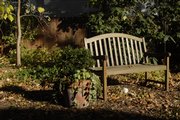 We Americans love our fences. They allow us the freedom to let the kids and dogs outside without worrying they'll wander off. They permit us the luxury of relaxing without feeling as though we're on display to the neighbors and passers-by. They shield our view of eyesores and can provide a sense of coziness and comfort.
But for all of our adoration of privacy fences, they can make us feel like we're confined to a box even when we're trying to enjoy the great outdoors. So how do we incorporate fences into our landscapes as backdrops rather than focal points - and do it in a way that makes us feel protected rather than trapped?
A few area landscapers will walk us through some simple steps to create a lush, unexpected, welcoming area near the fence line. Their suggestions not only conceal harsh vertical and horizontal lines but, in some cases, accentuate them.
All the experts seem to agree about one thing: A fence needs curved lines around it. Create serpentine flower beds that swoop and meander where they meet the lawn. Butting nonlinear shapes up to the fence will create an interesting contrast to the stick-straight vertical structure.
George Osborne, owner of George Osborne Landscape Design, says he likes to employ this strategy.
"That way the lawn also has a curved edge, and the boxed-in feeling is removed," he says.
Curves are not only an obvious way to escape from 90-degree angles, but they also slow down an onlooker's eyes, allowing them to enjoy the scenery a bit longer.
"My personal preference is for a softening effect," says Mary Olson, owner of Tomorrow Landscaping. "Fences are usually straight lines that cry out for curves. Any rounded feature will help. Shrubs are often used to diminish the straight lines of a boxy house, and they can help in the same way with a fence. A mirror used on a fence can be hung to reflect a more desirable part of the yard as well."
Summon your inner artist
Painting a fence can work wonders, and there are two strategies. Is your aim to blend the fence into the surroundings, or would you rather it became an undeniable garden accessory? If your aim is to blend, Reed Dillon, owner of Reed Dillon and Associates, recommends staining the fence a medium gray, not brown.
"The gray tones tend to disappear, and the fence does not have nearly as much visual significance," he says. "It just sort of goes away. Design a good-looking fence to begin with. It does add cost, but you are going to be looking at it for a long time, and a good fence can be less expensive than large-scale planting schemes.
"Also try alternating picket widths; use some four-inch and some six-inch boards in a rhythmic pattern."
If you'd rather embrace the fence, Olson says to focus on details.
"One can highlight the wall and make it stand out as an architectural focal point by adding finishing details like finials, wild paint color or decorative lattice," she says. "If it's a wire fence, ivy will entwine itself to cover it within a few years, and you have a living fence."
Another solution is to train ivy up the posts and then trim it like swags between the posts.
Living large
Does your fence seem out of scale with your plantings? Use a variety of flora in a multitude of shapes, sizes and textures. Play with line, repetition and shape contrast. Sowing taller plants along the fence interrupts the strong horizontal lines of the top of the enclosure.
"It helps to break up the fence line with some plantings, but it need not be continuous," Dillon says. "Group some blooming trees somewhere along it, or add some spruce or holly trees for evergreen color and another pause in the fence."
Olson helped Robert and Sheryl Jacobs blend their fence into the landscape by using plantings. Robert Jacobs, a Lawrence dentist, says the resulting elements add ambience to the yard.
"The foliage masking the fence was not planned; we would have been happy seeing the fence," he says. "The plantings just got big, which happens when you've lived in a home for 28 years."
Olson says a wide array of approaches will bring the landscape into scale with a fence, including controlled vines and formal evergreen hedges.
"Hardscapes like boulders, sculptures, birdbaths and anything else that lures the eye away from an unsightly wall can turn your backyard into a private preserve and steer away from an overly linear effect," she says.
With these helpful hints, none of us should feel trapped in a box any longer. Embrace your privacy while creating an inviting escape to the great outdoors.
Copyright 2018 The Lawrence Journal-World. All rights reserved. This material may not be published, broadcast, rewritten or redistributed. We strive to uphold our values for every story published.