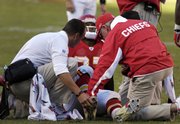 Kansas City, Mo. — The Kansas City Chiefs are preparing for life without Larry Johnson.
The Pro Bowl running back sustained an injury to his right foot after catching a pass in the fourth quarter of Kansas City's 33-22 loss to Green Bay on Sunday. Chiefs coach Herm Edwards said he didn't know the extent of the injury, but he already was thinking about ways to revive a feeble offense without its main weapon.
"We've got a whole week, but he couldn't put any weight on his foot when he was coming off (the field), and that's never good," Edwards said.
The Chiefs' running game has been an Achilles' heel all season. They average a league-worst 3.2 yards per carry. And it made little difference who carried the ball Sunday - Johnson averaged 2.8 yards per carry, while his replacement, Priest Holmes, averaged 2.7.
Holmes figures to start if Johnson can't play in next week's home game against Denver, and rookie Kolby Smith likely would see the most significant action of his NFL career.
Several Chiefs were holding out hope their running back would recover this week, but acknowledged the injury to Johnson - who needed two trainers to help him stand and walk just a few yards to the sideline - didn't appear to be minor.
"Even if that is the case, I know what 31 (Holmes) can do, and we feel comfortable with what Kolby can do," guard Brian Waters said. "We're going to come out and throw the ball and run the ball to keep people off balance, and we're going to do that regardless of who's out there."
Johnson and Holmes each found the end zone Sunday. Johnson scored on a one-yard run and a 30-yard screen pass, while Holmes plunged over his blockers for a two-point conversion after the Chiefs' final touchdown.
Though their production Sunday was similar, the two running backs are far from interchangeable, Edwards said.
"You can't give Priest all those carries, obviously," Edwards said. "If Larry can't go, Smith will have to play some, too. You play to your players' strengths."
While Johnson's durability is an asset - he set a NFL record with 416 carries in 2006 - Holmes is a more accomplished pass blocker and receiver and is regarded as a more patient runner.
Holmes, the Chiefs' career leading rusher, saw his first NFL action in nearly two years when the Chiefs beat the Raiders two weeks ago. He had been sidelined with a severe neck injury, and many assumed his career was over.
Now, he may find himself starting once again, another step in a remarkable comeback.
"We're fortunate to have a guy like Priest Holmes," tight end Tony Gonzalez said. "And Kolby Smith has been waiting for an opportunity. But hopefully we won't need him. Hopefully the injury's not that severe."
Copyright 2018 The Lawrence Journal-World. All rights reserved. This material may not be published, broadcast, rewritten or redistributed. We strive to uphold our values for every story published.