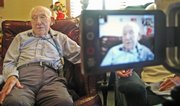 Nancy Porter listened intently as the man sitting a few feet away from her described what it was like to be an Army chaplain serving in Europe during World War II.
"We weren't allowed to carry arms," 100-year-old Charles Doudna said in response to a question Porter asked.
That was just one of a long list of questions Porter had for Doudna, a Baldwin City resident and former Baker University professor who also was chairman of the philosophy and religion department. While Porter conducted the interview, Robert Elder manned a nearby video camera. The video and a transcript of the interview will be stored at Watkins Community Museum of History and the Lawrence Public Library.
Porter has conducted many of the more than 200 interviews with Douglas County military veterans and others who lived through World War II. Some of the interviews are being shared with the Kansas Historical Society. The interviews began a few years ago.
"I've learned a lot," Porter said. "You hear about things that you never read about in the history books."
For example, Porter learned that the military had a tendency to assign farm boys to the infantry because they were strong and they knew how to operate machinery.
"And they knew how to shoot," Porter said.
Some of the interviews have been emotional. Porter recalled one man who started to cry as he talked about being shot after he was taken prisoner. Others broke down as they recalled a simple act of kindness, such as a child offering them food.
There are some questions, however, that just aren't asked, Porter said.
"We don't ask, 'How many people did you kill?'" she said. "We tell them that if they don't want to talk about something, they don't have to."
While most of the veterans are willing to be interviewed, many seem surprised that anyone wants to hear from them, said Deborah Pye, who also has conducted interviews.
"They say that they didn't do anything special, that they were just doing their jobs," Pye said.
In 2006, Watkins Museum obtained a $25,000 grant for an oral history project. That money was used to buy tapes, pay for travel and other expenses the museum and the library incurred. One of the requirements for the grant was that at least 200 people be interviewed. Doudna was the 208th interview. He also is the only chaplain and the oldest person interviewed.
Like Doudna, not all of the interview subjects were combat veterans. Some of them worked on the home front to support the war. It took 10 people in the United States to do what was necessary to supply and support every trooper overseas with "bullets and beans," Porter said.
"What they did was as important as the guy shooting at somebody overseas," she said.
Porter also said she has been impressed with the souvenirs that soldiers brought home from the war. The booty has included Nazi flags, hats, helmets and uniforms.
Porter and Pye have a few more interviews planned, and then they will take a hiatus to work on transcribing the interviews.
Copyright 2018 The Lawrence Journal-World. All rights reserved. This material may not be published, broadcast, rewritten or redistributed. We strive to uphold our values for every story published.