San Antonio — Tim Duncan headed to the bench for a well-deserved break. Only nine minutes into Game 5 of the Western Conference finals, he already had the San Antonio Spurs well on their way to another NBA finals berth.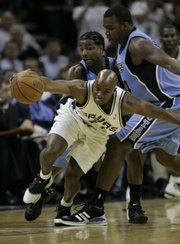 "Good job," coach Gregg Popovich said blandly, not even making eye contact.
Duncan nodded slightly and took his seat.
The Spurs aren't flashy and don't brag. They just win, especially in odd-numbered years, and the display they put on at the start of their 109-84 victory over the Utah Jazz on Wednesday night should serve as a warning to Detroit and Cleveland what one of them will be facing when the championship round begins next week.
Duncan and Tony Parker led a 14-0 surge over a 2:13 span late in the first quarter, and San Antonio had a 23-point lead early in the second quarter. Although Utah got an emotional lift at halftime when Derek Fisher arrived from New York, where his infant daughter was getting medical care for a rare eye condition, the only thing in doubt by then was whether the Pistons or Cavaliers would be the Spurs' next foe.
"Our first quarter was unbelievable," said Parker, who scored nine points during the game-breaking flurry and threw a lob that Duncan slammed about as hard as he ever does. "I can't remember, since I've been with the Spurs, shooting the ball like that. Our offense was great, our defense was great. ... You can't ask for a better start."
The title series begins a week from Thursday in San Antonio, regardless of who comes out of the East. The Pistons-Cavaliers series is tied 2-2, with Game 5 tonight in Detroit.
Although Dallas and Phoenix had more wins in the regular season, it shouldn't be surprising that San Antonio wound up being the best in the West. After all, this is 2007, and the Spurs have dominated in odd-numbered years since Duncan arrived for the 1997-98 season. San Antonio won it all in 1999, 2003 and '05, and even came close in the lone exception, losing the 2001 conference finals to the eventual champs, the Los Angeles Lakers.
"It always feels good to be here," team owner Peter Holt said upon receiving the Western Conference trophy, a sparkling silver basketball, during an on-court presentation. "This is wonderful."
"It never gets old," said Robert Horry, who is headed to his seventh finals.
Duncan has been the MVP of all three finals San Antonio has played. The way he's played in the playoffs so far - against Denver, Phoenix and Utah - he could be headed toward a fourth trophy, for him and the Spurs.
"It's great, it's about the journey," Duncan said. "Last year we had a tough finish. This year to come back, put the team together and to go through three really, really good teams to get here, it's tremendous."
The looks on the faces of Utah players throughout the game showed their disappointment. After missing the playoffs last year, and nearly going out in the first round this year, the Jazz were fortunate to have gotten this far.
Copyright 2018 The Associated Press. All rights reserved. This material may not be published, broadcast, rewritten or redistributed. We strive to uphold our values for every story published.