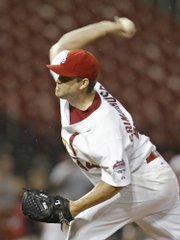 St. Louis — The St. Louis Cardinals' lone issue with Jason Isringhausen these days is getting him enough opportunities to pitch.
Coming off hip surgery that knocked him out of the postseason after the injury contributed to a career-worst 10 blown saves last year, the Cardinals' closer has been better than ever the first two months. Isringhausen has been nearly perfect at 13-for-14, and is coming off a week that showcased his newfound durability.
"We have one of the elite closers, and I think we ought to appreciate it," manager Tony La Russa said. "Whenever he's had a fair, healthy chance he's been an elite closer.
"The times he's struggled, there's always been some physical thing that's kept him from being himself."
The Cardinals leaned on the franchise's career save leader to get five outs in one of his saves. In another he pitched to one batter before a rain delay of one hour and 41 minutes, then came back to finish the game.
"I still want to go out there and prove to myself and prove to people that doubted me that I can get people out," Isringhausen said. "I got people out last year on one leg for the most part but I didn't have a good year to my standards.
"I want to prove to myself that I can actually still do this."
Isringhausen, 34, scoffs at suggestions he might deserve a third All-Star team spot. If the Cardinals merited only one representative, Isringhausen added that he'd prefer one of the team's younger players such as Chris Duncan or Yadier Molina get the chance.
Those three are among the few success stories this season on a team that won the World Series last fall with Adam Wainwright filling in for Isringhausen. Isringhausen has been more consistent than either of those two.
La Russa believes Isringhausen's arm is so strong he could throw every day for a week. Rarely has he been unavailable to pitch. In 19 innings he has given up only nine hits and five walks and was 1-0 with a 1.42 ERA.
The walk total represents a huge improvement and is perhaps the biggest difference, contrasted with 38 walks in 58 1-3 innings last season.
The other big improvement is keeping the ball in the park. Last year Isringhausen allowed 10 homers, one fewer than his total allowed in his first four seasons in St. Louis, and this year has not given up any.
The lone blown save came on April 22 in Chicago when Mark DeRosa's two-run single tied the score in the ninth inning of St. Louis' 12-9, 10-inning victory.
"I think I'm a better pitcher and I've got better control," Isringhausen said. "My biggest thing last year was all the walks, it was just uncharacteristic of me.
"To pound the strike zone, that's what I've always been able to do. And if I can do that, I can people out."
Isringhausen has saved seven of the team's last 10 victories. He's maximized his chances on a team saddled with the second-worst record in the NL at 20-28 just haven't been as plentiful.
"When we have a game or two a week and the pressure to bring that game into the clubhouse as a winner, imagine if one of those gets away," La Russa said. "Then we would really have more problems record-wise.
"If we take the lead enough, we get back in this thing."
Notes: RHP Todd Wellemeyer makes his first career start on Wednesday in Colorado, taking over Anthony Reyes' spot in the rotation. Wellemeyer has pitched well in short relief since the Cardinals claimed him off waivers from Kansas City in mid-May.
Copyright 2018 The Associated Press. All rights reserved. This material may not be published, broadcast, rewritten or redistributed. We strive to uphold our values for every story published.