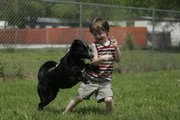 Clare Doveton describes the best part of her day.
Dogs at the Lawrence Humane Society erupt into a barking cacophony of pick-me pandemonium as the first volunteers of the day make their way among the kennels at 11:40 a.m. The floor is still damp from morning cleanup.
Clare Doveton and her son, Jackson Rogers, 4, visit a 2-year-old border collie mix. Jackson first called the black-and-white stray Gary, but he's since deemed him Wookiee.
Clare, 31, volunteers about once a month but has visited a lot in the last several days. She hopes the Humane Society will let them adopt Wookiee.
"We've been wanting a dog for a long time," she said. "I think Jackson's old enough now, and I work from home. It'll be a good environment."
The Humane Society has raised $290,000 in a $525,000 campaign to pay for repairs and a 5,000-square-foot shelter expansion, which will provide more dog runs, better ventilation and other amenities. The most recent fundraiser, the May 12 Mutt 'n Strutt, raised $22,000, said Director Midge Grinstead, and it's volunteers who make that success possible.
"When you look at what all they do - all the exercising, socializing and grooming of our animals, plus fundraising - they're our backbone," she says.
Clare and Jackson would like to teach Wookiee how to fetch. Wookiee's take on the game is to catch the rubber spider toy, then run pell-mell in the opposite direction.
"It feels great to be out with the dogs on a day like this," Clare says, shading her eyes from the sunshine. "This is a good place to be."
Copyright 2018 The Lawrence Journal-World. All rights reserved. This material may not be published, broadcast, rewritten or redistributed. We strive to uphold our values for every story published.