Kansas University senior Dylan Parzyk nearly capped his career in memorable fashion after his solo home run gave the Jayhawks a momentary lead during the fifth inning.
"I was thrilled for him," KU coach Ritch Price said.
However, after Parzyk's first home run of the year, Nebraska stormed back with three runs in the seventh and eighth innings to win Sunday's contest, 4-2, and end the Jayhawks' season on a losing note.
The defeat dropped Kansas to 28-30 overall and 9-17 in conference play. Because only the top eight teams in the Big 12 Conference reach the conference tournament, KU, which finished ninth, will not play again this year.
"I feel good about the progress we made from the start of the season to the end of the season," Price said. "Obviously, I'm disappointed in not finishing above .500."
During a brief ceremony before the game, the Jayhawks honored their four seniors - Ryotaro Hayakawa, Ross Kelling, Kyle Murphy and Parzyk - by introducing them and their parents to the 1,183 fans in attendance at Hoglund Ballpark.
"They're four tremendous people," Price said. "They've been great citizens, great teammates."
It was a freshman, though, who delivered one of the strongest performances of the day. Starting pitcher Wally Marciel threw five no-hit innings before surrendering a triple to D.J. Belfonte in the sixth. Relying on his slider and changeup, he recorded his longest outing of his career (61â3 innings), allowing three hits and three earned runs and striking out five.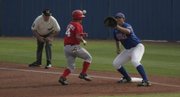 "I feel very good about what I did today," Marciel said. "I was surprised of how long I lasted."
Although Marciel (5-3) took the loss, Price praised the improvement by his freshman, who entered the rotation during April. He said by season's end Marciel arguably had become KU's best pitcher.
"During the beginning of the season, I was kind of nervous, just going out on the mound and pitching against these Big 12 schools," Marciel said.
Unfortunately for the Jayhawks, Nebraska starter Luke Wertz (4-0) responded with an even better performance then Marciel, allowing two earned runs and striking out eight during eight innings for the Cornhuskers (29-23, 4-13).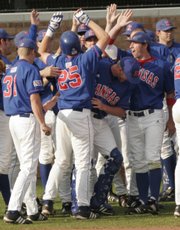 "That guy did one hell of a job," Parzyk said. "He kept us off balance with that breaking ball."
The Cornhuskers' bats came alive in the sixth. After thwarting the no-hitter, Belfonte scored on a Craig Corriston groundout.
In the next inning, Jake Mort doubled to drive home Jake Opitz and Andy Gerch. That Nebraska rally included a balk by Marciel during Mort's at-bat. Umpires tossed KU pitching coach Ryan Graves from the game after he protested the call.
"It was a really tough call at a really difficult time in the game," Price said.
The 2007 season will be remembered as a disheartening one. After winning the Big 12 tournament last year, the Jayhawks will not reach the postseason for the first time since 2004. It also represents Price's first losing season during his five-year tenure at KU.
"I don't like that feeling very much," Price said. "I guarantee you if I have anything to say about it, it won't happen again."
Copyright 2018 The Lawrence Journal-World. All rights reserved. This material may not be published, broadcast, rewritten or redistributed. We strive to uphold our values for every story published.