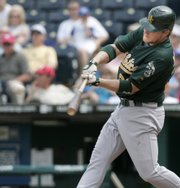 Kansas City, Mo. — Dan Johnson, Jack Cust and the Oakland hitters got well in a hurry.
After starting the afternoon near the bottom of the league in batting, scoring and home runs, the Athletics broke loose Thursday. Johnson and Cust each homered twice and the A's routed the Kansas City Royals, 17-3.
Danny Putnam hit his first major league home run and Eric Chavez also connected for Oakland. The A's set season highs for homers, runs and hits (18). The A's raised their team batting average six points to .244.
"It was fun to be a part of," Cust said. "They say hitting is contagious. It started rolling early and didn't stop. We never let up, so that's the key. You get teams down, especially a young team you want to take advantage of and keep going."
Cust's home runs both splashed into the right-field fountains and were an estimated 417 and 414 feet.
"The way he hits the ball, he makes these parks look small," Johnson said. "I'm trying to squeak it out of here, while he's dropping them into the fountains. That is something else to watch."
Johnson went 4-for-4 with two walks, driving in four runs and scoring four. Chavez had four RBIs and Shannon Stewart had four hits. Johnson was a triple shy of the cycle.
"It would literally take me a calendar day to get a triple," Johnson said. "All three outfielders would have to collide. Every inning it seemed like I was coming up again."
The Athletics improved to 29-7 at Kansas City since the start of the 2000 season.
"When you start looking at history it is hard to figure out why or why not," Chavez said.
Marco Scutaro was 0-for-21 lifetime at the ballpark before a two-run double in the sixth.
Winner Joe Kennedy (1-2) did not allow a hit until Billy Butler's two-out single in the fifth. Kennedy left after six innings, allowing three runs on four hits.
"There was a long layoff between innings," Kennedy said. "It's definitely a nice problem to have. As the game got longer and longer it was harder and harder to get back into the same rhythm I had in the first three innings, but I'm not going to complain."
The Royals, who have the worst record in the American League (11-24) and have lost 100 or more games in the past three seasons, have lost five of six and 12 of 16.
"Everything they hit fell in or went over the fence," Royals manager Buddy Bell said. "It was a bad game. I'm not even going to think about it, just throw it away."
Luke Hudson (0-1), activated off the disabled list before the game, lasted just two-plus innings. He threw only 23 strikes in 50 pitches while giving up five runs on two hits and four walks. He'd been out because of a sore right shoulder.
"I wasn't finishing any of my pitches," Hudson said. "I have a good idea about what I was doing wrong, so I can work on it. The shoulder is fine. You want to give your team a chance to win and I wasn't able to do that today."
Putnam, who got into the game when Chris Snelling had to leave early, led off the seventh with a home run against reliever Neal Musser. Johnson and Cust hit consecutive homers later in the inning.
Cust's two-run homer highlighted a five-run second inning. Chavez hit a three-run homer in the fourth as the A's took a 9-0 lead.
"It couldn't have been a better day for us," A's manager Bob Geren said. "That's the best offensive attack of the year. I was happy to see Putnam get his first home run. That's pretty neat. It didn't seem like we were going to stop scoring. We were seeing the ball good."
Johnson tied career highs for hits, runs and RBIs. He also matched his longest hitting streak in the majors at 10.
Emil Brown hit a two-run double and Mark Grudzielanek had an RBI double in the Royals sixth.
Notes: CF Chris Snelling left with a bruised left knee in the second inning. ... Royals C Jason LaRue bruised his left shoulder in the third inning and was taken for an MRI exam. Oakland's Adam Melhuse struck out on a pitch by Todd Wellemeyer, and the ball hit LaRue. ... Kansas City's Mark Teahen went 0-for-3, snapping his nine-game hitting streak. 1B Mike Sweeney went 0-for-2 with a walk, ending his seven-game hitting streak. He left because of hamstring tightness after six innings.
Copyright 2018 The Associated Press. All rights reserved. This material may not be published, broadcast, rewritten or redistributed. We strive to uphold our values for every story published.