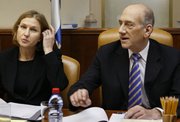 Jerusalem — Israeli Prime Minister Ehud Olmert fought off a political mutiny Wednesday, winning the support of most members of his party in a closed-door meeting even as his foreign minister joined the growing list of people demanding that he step down over last summer's war with Hezbollah.
In a televised news conference, Foreign Minister Tzipi Livni called on Olmert to resign, saying the public "has lost faith in the government" in the wake of a critical report that accused the prime minister of rushing into the 34-day war without a well-thought-out plan or realistic goals.
"In my meeting with the prime minister, I expressed my opinion that resignation is the right thing," Livni said shortly after she met with Olmert privately.
Olmert, however, vowed to stay on, and at a special meeting of his centrist Kadima Party, most members voted to back him, according to Shimon Peres, a party member and deputy prime minister.
"The party was united, and this has been a big day for the party and for Olmert," Peres told Israeli reporters after the meeting.
"The coalition is stable. The party is stable," said Miri Eisin, Olmert's spokeswoman.
The decision to back Olmert capped a day in which Livni and Kadima Chairman Avigdor Itzhaki tried to rally mutineers to dump Olmert over the report. The report blamed Olmert, Defense Minister Amir Peretz and former Chief of Staff Lt. Gen. Dan Halutz for the outcome of the Hezbollah war, which most Israelis viewed as a defeat.
In the end, though, it was Itzhaki who resigned. Livni's future as a member of Olmert's government remained uncertain.
Olmert, too, faces difficult days and months ahead. Monday's report dealt with only the first five days of last summer's war. The commission that issued the report, named for its chairman, retired judge Eliyahu Winograd, is expected to release later this year its examination of the war's last four weeks and it's likely to be as damning of Olmert and his advisers.
Even if Olmert survives the current crisis, the final report will be his ultimate undoing, many believe.
"He doesn't know who is going to strike first," said Uri Dromi, director of international outreach at the Israeli Democracy Institute think tank. "Now he is really like a hunted animal."
Livni's high-profile defection came on the eve of a major Tel Aviv protest that will be a bellwether of how much support Olmert has in Israel. With polls showing two-thirds of Israelis supporting Olmert's removal, tens of thousands of demonstrators are expected to turn out today. Protesters are rallying around the slogan "You have failed; go home."
Copyright 2018 The Lawrence Journal-World. All rights reserved. This material may not be published, broadcast, rewritten or redistributed. We strive to uphold our values for every story published.