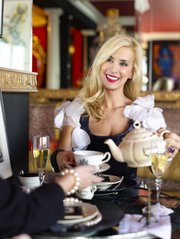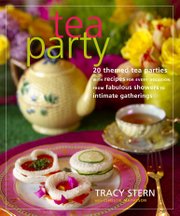 Some easy tea party ideas from Stern:
¢ For a beach theme, make the table pretty using seashells filled with salt or sequins. Stick a flower in a conch shell.
¢ For an elegant centerpiece, decorate a branch with crystal teardrops and uplight it with candles.
¢ Fill clear glasses with the colored aquarium stones sold in pet stores.
¢ Use cookie cutters to cut sandwiches into bite-size shapes, such as hearts.
¢ If you own a variety of teacups but not a complete set, use glass plates to mix and match for a modern-vintage look.
¢ For place settings, put two glass plates together and press a pansy or palm frond between them. If it's a birthday or shower party, insert a photo of the guest of honor between the plates.
¢ Use chilled brewed tea to create interesting cocktails. Stern's black-tea martinis, recommended for a "Gentlemen's Tea," are made from 2 ounces of vodka, 2 ounces of chilled brewed black tea and ice. (Dip the moistened rim of the glass in chopped tea leaves and sugar before you pour.)
¢ Make edible place settings using canned, refrigerated soft breadsticks, which you can shape into your guests' initials before baking.
¢ Set the tone for your party with creative invitations. For a garden party, enclose a small packet of flower seeds with each invitation. For a French-themed soiree, use postcards of Paris.
¢ Don't forget party favors. Buy one type of tea in bulk, and give everyone a small bag.
New York — You'd expect a book called "Tea Party" to provide instructions for a proper afternoon tea, complete with white linen napkins, polished silver and tiered trays of scones, finger sandwiches and petits fours.
But Tracy Stern's book also provides inspiration for plenty of parties that stray from that cliche, including one for men with black-tea martinis and sausage sandwiches.
Or a zany Mad Hatter-style tea party (a very merry unbirthday) with mismatched plates and cups, ham-banana sandwiches and cherry tarts. And a fall harvest dinner with chai tea, squash soup and an apple-cranberry crisp.
Stern's "Tea Party" (Clarkson Potter, $27.50) offers recipes and ideas for 20 such themed events. And that's just the start of her repertoire.
"I could have written five books," said Stern, whose company, Tracy Stern SALONTEA, sells specialty teas and tea-infused beauty products. "My head is filled with the fantasy of creating tea parties for adults."
As a child, Stern collected teacups and was obsessed with giving tea parties. As an adult, she turned that passion into a business. In addition to her book, published in April, and her products, she's lined up investors for a chain of stores called Tea Party, with plans to open the first store later this year in Manhattan.
Stern's ventures come at a time when the tea industry is booming. Ten years ago, there were 200 specialty tea rooms and retail shops; today there are 2,200, according to the Tea Association of the USA. Statistics from the Tea Association also show that consumer purchases of tea have increased for 15 straight years, with away-from-home consumption increasing 10 percent annually for a decade. Strong growth is anticipated for the next five years.
"Tea is undergoing a renaissance," said Joe Simrany, president of the Tea Association. Simrany said reasons include increasing awareness and popularity of specialty teas; ready-to-drink teas; and health benefits. (Tea is high in antioxidants.)
In creating her book, Stern, a married mother of two in her late 30s, drew on her experiences as a tea maven. After studying art at the University of Tampa in Florida, she opened the Royal Tea Room in Tampa, with handpainted tea cozies and her own blends of tea. She later sold the business and moved to New York, where she hosted formal teas at a hotel and organized tea parties for charities and corporate events, including creating drinks mixing tea and alcohol to launch liquor products.
The stores she envisions opening will sell her teas and beauty products, along with teacups and teapots she's designed using antique china for inspiration. The stores also will serve tea and sweets.
"This is the place you're going to want to be that will be a respite from the crazy city," said Lauren Freedman-Bolton, CEO of Tracy Stern Inc., who helped Stern devise a business plan and secure financing for the stores. "It will stimulate your senses, but it will also be very calming."
The same could be said of the tea parties Stern outlines in her book, which include gatherings celebrating New Year's Day, Valentine's Day, Mother's Day, engagements, baby showers and bridal showers. In addition to recipes, each theme includes ideas for invitations, decor and activities.
For a bridal shower tea, Stern suggests a spa theme, with little plastic tubs for foot soaks in mineral salts and chilled eye masks. Guests even could chip in and hire a manicurist, pedicurist or massage therapist to come. The menu includes serve-yourself buffets: a sophisticated salad bar and a frozen yogurt and sorbet bar.
While her menus and themes are unorthodox, Stern is a purist when it comes to actually making the tea.
"I'm not doing the tea bag," she declared. "I feel the tea leaf needs to open and unfurl to get the full flavor." And microwaving a cup of water for tea is a no-no as well. Stern wants the water boiled, then steeped with loose tea.
She added that inviting friends for tea always "makes them feel special," whether it's in your home, a fancy hotel or a cozy cafe. "Grabbing a cup of coffee," she said, "doesn't have that same special cachet."
Copyright 2018 The Associated Press. All rights reserved. This material may not be published, broadcast, rewritten or redistributed. We strive to uphold our values for every story published.