One Lawrence resident stops traffic in honor of her birthday
Billy Keefe decided to celebrate her birthday in an unusual way.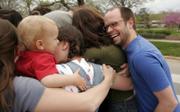 Lawrence.com blog: My Punk Heart
Copyright 2016 The Lawrence Journal-World. All rights reserved. This material may not be published, broadcast, rewritten or redistributed. We strive to uphold our values for every story published.
More like this story on LJWorld.com

Find more businesses on Marketplace
Arts & Entertainment · Bars · Theatres · Restaurants · Coffeehouses · Libraries · Antiques · Services