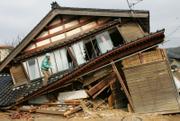 Kanazawa, Japan — Aftershocks shook a rural area of coastal central Japan today, a day after a powerful earthquake killed at least one person and injured 170 others as it toppled buildings, triggered landslides and generated a small tsunami along the coast.
One of the aftershocks had a preliminary magnitude of 5.3 and struck at 7:19 a.m. today. Japan's Meteorological Agency said there was no tsunami danger.
"A fairly big aftershock hit just minutes ago and I jumped out the door," said Tomio Maeda, manager of a convenience store in Anamizu town. "It's scary, I guess it's not over yet."
Sunday's magnitude-6.9 quake struck off the north coast of Ishikawa, the Meteorological Agency said. The agency issued a tsunami warning urging people near the sea to move to higher land.
A small tsunami measuring 6 inches hit the shore 36 minutes later, the agency said.
The quake toppled buildings, triggered landslides, cut power, interfered with phone service, broke water mains and snarled public transportation. At least one person was killed and 170 others were hurt along the country's Sea of Japan coast, according to the Fire and Disaster Management Agency.
Television footage of the quake showed buildings shaking violently for about 30 seconds. Other shots showed collapsed buildings and shops with shattered windows, streets cluttered with roof tiles and roads with cracked pavement.
"We felt violent shaking. My colleagues say the insides of their houses are a mess, with everything smashed on the floor," Wataru Matsumoto, deputy mayor of the town of Anamizu, near the epicenter, told NHK.
Chief Cabinet Secretary Yasuhisa Shiozaki confirmed the death of a 52-year-old woman. NHK said she was crushed by a falling stone lantern.
"We are doing our best to rescue the victims," he said. "We are also doing our best to assess the extent of the damage."
Copyright 2018 The Associated Press. All rights reserved. This material may not be published, broadcast, rewritten or redistributed. We strive to uphold our values for every story published.