Wright — This tiny western Kansas town, with its single-story frame homes that sidle up to neatly plowed fields, looks like just the place for one of the new ethanol plants that have been turning up across the Midwest.
To some residents it is. But to others, an ethanol plant is low on the list of things Wright needs. Not that the 400 people around here couldn't use the jobs or money the plant would bring in - because they could.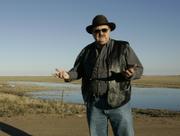 But some area residents are hard-pressed to part with the water the plant would require.
"Frankly, we're not so much worried about this plant using 1.5 million gallons of water a day, even though we live in a semi-arid area," said Lowell Brakey, spokesman for a group of Wright residents who filed a lawsuit over the new plant and lost. "We're worried about the corn."
Corn, which is what most U.S. ethanol is made from, also requires more water to grow than many crops. And if area farmers are "fiscally responsible," Brakey says, they'll replace less water-intensive crops to take advantage of corn prices, which have almost doubled.
The agriculture industry already expects a massive increase in corn acres nationwide based on recent demand for corn seed and fertilizer. And U.S. Secretary of Agriculture Mike Johanns is weighing the possibility of easing penalties for farmers eager to plant corn on land that had been set aside for conservation.
"That's what's really going to kill the water situation here," says Brakey, a businessman from nearby Dodge City. "The amount of water it will take to irrigate all that corn."
Ethanol a popular option
Ethanol's popularity as an alternative fuel has reached all-time highs. In his State of the Union speech earlier this year, President Bush urged Americans to reduce gasoline consumption by 20 percent over 10 years by substituting alternative fuels, mainly ethanol. The ethanol would be in gasoline blends of 10 to 85 percent.
With about 114 plants nationwide and 80 more on the way, the country's ethanol output was about 5 billion gallons last year and is expected to double again by about 2009, according to the Renewable Fuels Association, a trade group that promotes ethanol.
Across the Midwest, where many of the ethanol plants are located, the new plants hold the promise of jobs and economic development. Supporters point to cities and towns like those across Iowa, where ethanol plants have saved local economies, eased unemployment and offered hope that another generation will stay on the farm.
But opposition has turned up elsewhere because of concerns over pollution and the risk of overextending water supplies. People in towns like Wright; Dover, Wis.; Batesburg-Leesville, S.C.; and Rogersville, Mo., have tried to halt the ethanol tide before it reached their city limits. Some had more success than others.
Dust Bowl memories loom
In Kansas, where the Dust Bowl of the 1930s is more than a memory, the Ogallala aquifer has shown signs of overuse in some sections for years, and corn doesn't grow much without irrigation, water - and who gets to use it - is a big deal. Some rivers, streams and reservoirs across the state have been at record lows for years.
Since 1975, the Arkansas River at Dodge City, just west of Wright, has had more days of no streamflow than days of measurable flow, according to the U.S. Geological Survey. And in a bid to revive sagging water supplies, the state is considering a plan to pay farmers not to irrigate.
Sections of southwest Kansas - where Wright is located - have more than 250 years of water for irrigation left. Others are down to about 25 years, according to the Kansas Geological Survey.
Kansas Agriculture Secretary Adrian Polansky, a fan of ethanol plants, says the state has to use its water for something, and ethanol is a rare opportunity, especially for rural Kansas. The marketplace, Polansky said, would determine "where the most economic value can be derived from water."
Kansas has eight ethanol plants so far, with four more under construction. Another 22 have been proposed.
"Anytime we have an economic opportunity that provides 30, 40, 50 jobs, that means millions of dollars for that local community. ... That adds some significant income to farmers and rural communities."
In a presentation last year, Polansky said more than half of the ethanol made in Kansas comes from sorghum, which requires less water than corn. Polansky also said the manufacture of ethanol from sorghum and other similar crops would likely increase.
'We cannot afford to lose'
But whether ethanol is made from corn or less water-intensive crops doesn't mean much to Harry Coambes. When Coambes, 64, heard last August how much water a proposed ethanol plant near his southwest Missouri home would use, he retired early from his job as a corrugated box salesman and went to work building opposition to the plant.
"What would you do to protect your home, your livelihood and your net worth?" said Coambes. "We cannot afford to lose because if they have to empty our aquifer, I am financially ruined, me and about 100 some other families."
Coambes organized a group, Citizens for Groundwater Protection, which he says now has about 500 members. The concern, he said, is that the plant proposed by Gulfstream Bioflex Energy LLC would discharge polluted water onto other property or underground and pump more than a million gallons of water a day from the Ozarks aquifer.
That's more than the area towns of Fordland, Rogersville, Seymour and Marshfield use combined, Coambes said. His group has spent about $100,000 fighting the plant. The case has gone to court, and visiting Webster County Judge Frank Conley left a restraining order in place earlier this month that prohibits the company from proceeding with its plans until he issues his decision.
James Kaiman, president of Gulfstream Bioflex, argues that the aquifer holds plenty of water for both the plant and the residents for thousands of years. He has also made concerned property owners an offer.
"We have told the surrounding property owners that if the plants would impact their wells, we would do anything to keep their wells intact," Kaiman said. He said the company has offered to dig existing wells deeper or drill new ones for property owners whose wells were compromised by the pumping from the plant.
'Great opportunity'
Gary Harshberger, president of Boothill Biofuels, which will run the Wright ethanol plant once it gains final approval, said he was not concerned about using too much water because the aquifer in Ford County is "in better shape than some" counties.
Besides, he said, the benefit to residents of Wright and beyond would outweigh the costs. Plans now call for construction on the Wright plant to begin by August, with grinding set to begin in October 2008.
"This is a great opportunity for kids to come back to rural America," Harshberger said. "A grain merchandiser in Kansas City said he wanted to get back closer to the farm, and he's from Wright. We've already employed him.
"And then ... someone told me she's thinking about opening a sandwich shop in Wright when the plant gets going. Anytime things like that start happening, the entrepreneurs start cropping up."
Copyright 2013 The Associated Press. All rights reserved. This material may not be published, broadcast, rewritten or redistributed. We strive to uphold our values for every story published.