Jeff Coatney reads a couple examples of his work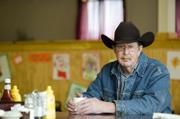 It takes a quiet place to write a poem, said Linwood businessman and poet Jeff Coatney.
And it takes at least an hour for him to pen a verse. That's probably not long enough, Coatney said.
"Probably if it took longer it would be better," he said, a quick smile lighting his face.
Coatney and his wife, Sharon, own Phoenix Industries, a Linwood firm that manufactures security devices for doors on commercial and industrial buildings.
Next door to Phoenix is another building the Coatneys own, the New Linwood Cafe.
And it's for the cafe that each week Coatney pens a verse to run in the cafe's advertisements that appear in area newspapers.
Some of his verses point out the scenic beauty of the Linwood area, such as this:
"Linwood Road is a pretty place
Filled with sightly country grace.
But it's not just a lovely drive,
There's good food waiting when you arrive."
Other poems speak of life in general. For instance, a recent poem looked at what makes people happy.
"It's more than a paycheck that moves us
and makes us swell with pride
It's the art of making folks happy
that make us feel good inside."
Coatney said he doesn't struggle to find topics to write about because ideas crop up on their own.
"There's something that just kind of grabs you and makes you look at things in a different way," Coatney said.
He started writing poetry, most of which he described as whimsical or lighthearted, about 10 years ago.
A worldly vision
Though Coatney's poetry is lighthearted, not everything in his life would have predicted that.
Coatney, 64, spent his early years in Kansas City, Kan. His family moved to Linwood before his senior year of high school. Coatney attended his first year of college at Kansas State University and then transferred to Emporia State Teachers College, where in the middle of his senior year two events changed his life.
"I ran out of money and I got drafted," Coatney said.
He spent nearly six years in the Army, beginning as a private and leaving as a captain.
In Vietnam he flew helicopters.
"I was shot down three times," Coatney said.
"The people who were on the ground who were shooting continued to shoot," Coatney said. "I managed to get far enough away from them before it went down. Nobody was captured. The people that were with me I think were lucky too, because no one was ever seriously hurt on my aircraft."
A matter of time
As Coatney speaks, his right hand quivers. It's a symptom of the Parkinson's disease he fears will further change his life.
"Retirement is becoming a more and more alluring option," Coatney said. "There are things that I want to do that I just don't have time to do."
For instance, writing poetry and composing music.
"I write songs," Coatney said. "That's really where the poetry came from is songwriting."
It's a passion for him - working on his electric keyboard, writing religious songs and any other kind of music that comes to mind.
He records the music and sings the lyrics for CDs he keeps in his car.
Like his poetry, the songs have a cheerful lilt.
"I don't know how much longer I'm going to be able to do it," Coatney said of recording his music. "I'm starting to lose some control of my hands and I know it's going to be a matter of time until I'm not able to do that anymore."
Published poet
Meanwhile, Coatney continues work at his manufacturing business. He looks forward to introducing more people to the Linwood area and to the New Linwood Cafe. He's a familiar site at the restaurant, a tall man in brown work boots, blue denim jeans and jacket, topped with a brown suede cowboy hat not for looks, he said, but for doctor-recommended sun protection.
And his poems are becoming a familiar site in area newspapers. Occasionally, Coatney said, new diners from out of town come to the restaurant, saying they were intrigued by his poetry and wanted to visit.
Coatney takes his poetic talent, and his newfound visibility, in stride.
"I get a kick our of seeing the ads in print," Coatney said with a slow smile and twinkling eyes. "That's one way to get published."
Copyright 2018 The Lawrence Journal-World. All rights reserved. This material may not be published, broadcast, rewritten or redistributed. We strive to uphold our values for every story published.