Spokane, Wash. — The best player on the floor will be the best player on the couch for the rest of the NCAA Tournament.
Texas star Kevin Durant's season came to an unceremonious close Sunday after an 87-68 thumping at the hands of surprising Southern California.
Nick Young led USC with 22 points in the runaway, which left Durant - the freshman front-runner for national player of the year - to decide whether to leave college for the NBA.
"I don't think that's an appropriate question right now," Durant said. "I'm just worried about this team and what we can be next year as a team."
As he often has this season, Durant led everyone with 30 points and added nine rebounds for fourth-seeded Texas (25-10).
But he never came close to dominating this East Regional game. Many times when he got the ball, the offense ground to a halt for the Longhorns, who fell behind by 17 early in the second half and never made a serious run.
Controlling Durant and minimizing the damage that guard D.J. Augustin could do was the key to the USC game plan.
"Basically, there's nothing you can do against Durant," Young said. "You just focus on the other two guys, Augustin and Abrams."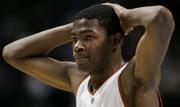 Augustin was held to six points and five assists, while A.J. Abrams had 20 points and was the only other Longhorn in double figures.
The fifth-seeded Trojans (25-11) also got 20 points from Daniel Hackett and 17 points and 14 rebounds from Taj Gibson - a 6-foot-9 freshman like Durant. USC won by playing smarter, more disciplined basketball, especially on the defensive end, and looking much more like a team in doing it.
A team with a very good leader in Young - the scrappy swingman who had every reason to believe he'd be a USC alum by the time second-year coach Tim Floyd's rebuilding efforts took shape.
Turns out, the talent's there now, and next week, the Trojans will make their first trip to the regional semis since 2001 - and second since 1979 - where they'll play North Carolina in East Rutherford, N.J.
Copyright 2018 The Associated Press. All rights reserved. This material may not be published, broadcast, rewritten or redistributed. We strive to uphold our values for every story published.