Danni Boatwright is about to catch a serious case of Jayhawk flu, and join hundreds of fellow Kansas fans heading to California for treatment.
San Jose, here they come.
"I'll be there if I can get off from work," said Boatwright, the "Survivor: Guate-mala" winner and persistent Jayhawk fan, who wiggles out of the office by catching the bug this time of year. "They'll be very well aware of it."
The following reached a fever pitch Sunday at the United Center, as KU dispatched Kentucky, 88-76, to earn a place in the Sweet 16 for the first time since 2004.
With two first-round losses the past two years now well behind them, the Jayhawks - players, coaches and fans alike - are focused on beating Southern Illinois in Thursday's regional game at HP Pavilion in San Jose.
"We don't want to go home," said freshman guard Sherron Collins. "We're going to play every game like it's our last."
Allen Caviar, owner of six seats at Allen Fieldhouse and fearless follower of the team, is primed to head to the West Coast. He'd already booked that trip, and has tickets and travel lined up already for the Final Four in Atlanta.
"Southern Illinois is the weakest No. 4 seed," said Caviar, who owns Liberty Fruit Co. in Kansas City, Kan. "And after watching the Indiana game, UCLA doesn't scare me. :
"This team's confidence level is high, because they're just that good. They're going to do it."
Photo Gallery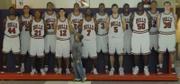 NCAA Tourney: KU vs Kentucky
Copyright 2018 The Lawrence Journal-World. All rights reserved. This material may not be published, broadcast, rewritten or redistributed. We strive to uphold our values for every story published.