Spokane, Wash. — Ryan Francis would have turned 20 on Saturday.
He also would already be an NCAA Tournament winner after Southern California's first-round win over Arkansas, and he'd be preparing for a marquee second-round matchup against Texas.
Instead, his mother, Paulette, spent Ryan's birthday surrounded by his USC teammates, all still pondering the senseless nature of Ryan's slaying less than a year ago.
"It's a trying day for her and I think it's great she's out here with us," USC coach Tim Floyd said. "She basically told me this day can't be tougher than the previous days she's experienced."
Fifth-seeded USC (24-11) will face plenty of challenges in its marquee matchup with No. 4-seed Texas (25-9) today in the East Regional. But the tasks ahead for the Trojans - most notably trying to slow Texas' player of the year candidate Kevin Durant - seem trite and minuscule compared to the healing they're helping provide Francis.
Ten months ago, Ryan - USC's starting freshman point guard a year ago - was gunned down on Mother's Day weekend back in his home state of Louisiana while visiting Paulette. He was coming off a strong first season in Los Angeles, where he averaged more than 7.0 points a game, ranked seventh in the Pac-10 in assists (111), and fifth in steals (47).
Around 3:30 a.m. last May 13, Francis was among four passengers whose vehicle pulled up to a stoplight. The driver of another vehicle got out and opened fire, and while the driver in Francis' car tried to drive away, Francis was shot multiple times.
"Franchise," as he was called by his teammates, was the only one hit.
Through a university spokesman, Paulette Francis declined to speak Saturday.
"We realize she's been through a lot," said guard Gabe Pruitt, who took over Ryan's role as the Trojans point guard. "We're just trying to make it fun for her."
Francis' death was a devastating loss for the entire program, but especially difficult for Floyd. Francis was the first player Floyd convinced that USC could be more than just Carson Palmer, Reggie Bush and the football program.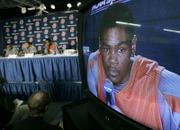 The Trojans get the opportunity today against Texas to further that belief. While Ryan is around in spirit, with his teammates wearing the black No. 12 patch on their jersey's in his honor, Paulette will be in the arena hoping to see USC advance to the regional semifinals for the first time in six years.
"We're there for her to help get through this time," USC senior Lodrick Stewart said. "It's a hard time for her to be here watching the team she knows her son should be playing for right now. You can see it in her eyes, but we're helping her get through it."
Since joining the team in Spokane, Francis has taken on the role of team mom, leisurely chatting with players in the hotel, or in the case of Stewart, stopping him from satisfying a craving for cookies a few nights ago.
While their emotions are with Francis, the Trojans' minds are firmly planted on trying to slow down the Longhorns, who held off New Mexico State 79-67 in the first-round on Friday with another rousing performance by Durant, in his first tournament game.
The Longhorns' star finished with 27 points, scored 15 of those at the free-throw line, and added eight rebounds and three steals. He took just 13 shots, often yielding the floor to the backcourt duo of freshman D.J. Augustin and sophomore A.J. Abrams, who combined for 35 points and eight assists.
Some wondered if 13 shots were too few for Durant, and the 6-foot-9 star should be more selfish.
"That's not how he is. He's always thinking about the team," Augustin said.
Added Durant: "I don't have to have the ball every time down the floor for us to score."
Copyright 2018 The Associated Press. All rights reserved. This material may not be published, broadcast, rewritten or redistributed. We strive to uphold our values for every story published.