SACRAMENTO — Darren Collison finally made the decisive steal that shot UCLA into the next round of the NCAA Tournament.
Collison scored 15 points and followed up Arron Afflalo's go-ahead free throws by swiping the inbounds pass, leading UCLA to a 54-49 second-round victory Saturday night in the West Regional.
Collison's bit of thievery was the highlight in a wall-to-wall defensive display by two of the nation's grittiest clubs. UCLA led 20-13 after the excruciating first half, and didn't make a field goal in the final 5:25 - but still hung on to play another round thanks to defense.
"You've got two defensive-minded teams," Indiana coach Kelvin Sampson said. "Two teams that won't give an inch. We wouldn't budge. They wouldn't budge."
Afflalo, the Pac-10 player of the year, managed just 10 points for second-seeded UCLA (28-5), coming up empty along with his teammates when the Hoosiers desperately opened up their offense in the final minutes. Indiana tied it at 49 with a minute left after a 16-3 rally, but Afflalo and Collison finished it off with four free throws and one big steal.
"We knew it was going to be a tough game to play against a Big Ten team like that, but we showed we can play a lot of different ways," Afflalo said. "We're a versatile team, and we're just grateful to be moving on."
The Bruins are headed to the round of 16 for the fifth time in eight years - and the second straight campaign under coach Ben Howland, whose team lost the national championship game to Florida last season.
Awaiting Howland in the next round is a matchup with his old team, the Pitt Panthers.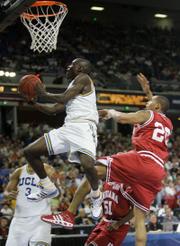 "It's exciting, because it means Pitt won," Howland said before asking his wife to buy a ticket to San Jose for their daughter, a Pitt student.
D.J. White and Earl Calloway scored 12 points apiece for Indiana (21-11), which finished Sampson's encouraging first season with a tournament game that should have a place in the schools' rich history - even if it won't win any beauty contests.
"Their defense was pretty good," Indiana's Roderick Wilmont deadpanned. "They trapped our screens, but we had open looks we couldn't hit. We found our groove in the second half, but it was too late."
Pittsburgh 84, VCU 79, OT
Buffalo, N.Y. - Eric Maynor and his Virginia Commonwealth teammates spent all of their energy forcing overtime. Levance Fields and Pittsburgh took over from there.
Fields atoned for two missed free throws at the end of the regulation and Pitt recovered after blowing a 19-point lead.
Maynor, who hit the game-winning shot to beat Duke in the first round, led a comeback from a 51-32 deficit. Fields made a clutch 3-pointer in overtime and Ronald Ramon scored five points in the extra session.
Third-seeded Pitt (29-7), which has never won more than two games in an NCAA tournament, will make its fourth appearance in school history in the round of 16 and play UCLA.
Copyright 2018 The Associated Press. All rights reserved. This material may not be published, broadcast, rewritten or redistributed. We strive to uphold our values for every story published.