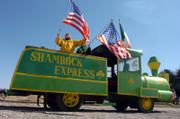 To mark its 20th year, today's Lawrence St. Patrick's Day Parade will blend tradition with first-time events.
This year, the holiday's on a Saturday, which hasn't happened in five years. So more people than usual will see more than 100 float entrants cruising Massachusetts Street.
And past queens will grace the parade, including Lauraine Mulally, the parade's first senior queen. She also is mother of this year's grand marshal, Alan Mulally, a Lawrence native who is president and chief executive officer of Ford Motor Co. She's participated in the parade for 13 years and said it will be "wonderful" to sit with her son this year.
The rest of the Mulally family will ride in a Ford truck, one of many Fords in the parade. There even will be a replica of a Ford airplane. The Jayhawk Model Masters built a replica of the 1926 Ford Fliver aircraft, which will be the parade's centerpiece.
Jerry Foree, president of the group, said Alan Mulally contacted them when he heard about the plane replica and said it "sounds like a great mission and lots of fun."
The parade begins at 1 p.m. in South Park and heads north down Massachusetts Street, across the Kansas River bridge, ending at 501 N. Ninth St.
Generally, the Lawrence St. Patrick's Day Committee raises about $50,000, which is donated to children's charities, said Sara Jane Zimmerman, treasurer. Since its inception 20 years ago, the committee has provided more than $385,000.
This year, funds will be split among O'Connell Youth Ranch, Project Kindergarten and the Strategic Education Center.
"It's so amazing what we can get and give back to the children in Douglas County," Zimmerman said.
Copyright 2017 The Lawrence Journal-World. All rights reserved. This material may not be published, broadcast, rewritten or redistributed. We strive to uphold our values for every story published.