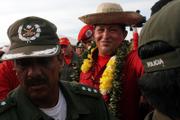 Trinidad, Bolivia — Venezuelan President Hugo Chavez visited flood-ravaged Bolivia on Saturday to show off the fact that his country has pledged 10 times more aid than the Bush administration. But local leaders gave him a cool reception, accusing him of meddling in Bolivian politics.
Bolivia was the latest stop on a Chavez tour intended to upstage President Bush's trip through Latin America. While Bush visited Brazil on Friday, Chavez packed a soccer stadium in neighboring Argentina, telling a crowd of 20,000 leftist supporters that Bush's tour was a cynical attempt to divide the region.
Thousands of Bolivians, joined by Venezuelan aid workers, greeted Chavez at the airport in Trinidad, a city in Bolivia's eastern lowlands where a rainy season supercharged by El Nino has killed 51 people, driven thousands from their homes and triggered an outbreak of dengue fever.
Chavez, wearing an untucked red shirt in the blazing heat, kissed a Bolivian flag held by sailors in dress whites. He has pledged $15 million in aid for flood victims, including a squadron of helicopters to deliver food to remote villages, dwarfing the $1.5 million sent by the U.S.
"Those who want to go directly to hell, they can follow capitalism," Chavez told the crowd of some 2,000 Bolivian flood victims and Venezuelan and Cuban aid workers gathered on the steaming airport runway. "And those of us who want to build heaven here on Earth, we will follow socialism."
However, not everyone welcomed Chavez. Bolivia's cattle-ranching state of Beni is a stronghold of opposition to President Evo Morales, a Chavez ally who has pledged to redistribute large tracts of land to the poor. Local leaders see Chavez's generosity as political opportunism and resent his influence in Bolivia.
The Beni governor and the mayor of Trinidad have refused to receive Chavez, complaining that Venezuelan aid workers have ignored their authority.
"We are grateful for the assistance of the Venezuelan people, but we're bothered by the intervention of Chavez in Bolivia," Mayor Moises Shiriqui told The Associated Press. "He's coming here for a political campaign."
Copyright 2018 The Associated Press. All rights reserved. This material may not be published, broadcast, rewritten or redistributed. We strive to uphold our values for every story published.