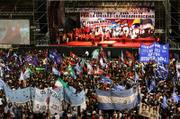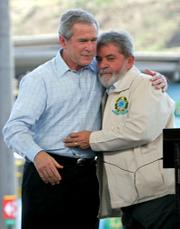 Sao Paulo, Brazil — Taunted by leftist President Hugo Chavez of Venezuela, President Bush on Friday insisted the United States is not neglecting Latin America and celebrated an alternative-fuels pact with Brazil as proof.
"I don't think America gets enough credit for trying to help improve people's lives," Bush said at a joint news conference with Brazilian President Luiz Inacio Lula da Silva. "My trip is to explain as clearly as I can that our nation is generous and compassionate."
Bush shrugged off fresh attacks from Chavez, his primary South American tormentor. The Venezuelan leader is staging a tour of the region to rival Bush's weeklong, five-country visit.
On Friday, in Buenos Aires, Argentina - about 1,000 miles southwest of here - Chavez called Bush's travels an attempt to divide and confuse Latin American nations.
"The future belongs to us," Chavez told reporters, adding "Oh, ho ho! Gringo, go home!"
The two were even closer later Friday, when Chavez addressed an "anti-imperialist" rally in a soccer stadium in Buenos Aires while Bush arrived in Montevideo, Uruguay, across the River Plate.
"The U.S. president today is a true political cadaver, and now he does not even smell of sulfur anymore," Chavez told a raucous stadium crowd, alluding to Bush's waning years in office. "What the little gentleman from the North now exudes is the smell of political death, and in a very short time, he will be converted into cosmic dust and disappear from the stage."
Chavez added that he did not come to sabotage Bush's visit, saying the timing was a coincidence, even as Bush landed in Uruguay for a 36-hour visit.
Chavez is using his country's vast oil wealth to reach out to ordinary Latin Americans and to court other leftist leaders.
Bush noted total U.S. aid has doubled since he took office to $1.6 billion last year. Some Latin American critics say Bush's claim is misleading because it is based on using 2001 as the starting point, and U.S. aid had dipped sharply that year, setting an artificially low benchmark.
The Bush administration sees the leftist Silva as a counterbalance to Chavez for influence in the region. As a sign of his standing, the president has invited Silva to visit the presidential retreat at Camp David, Md., on March 31.
The centerpiece of Bush's Brazilian stop - the first before he headed on to Uruguay, Colombia, Guatemala and Mexico - was a new ethanol development agreement.
The two went in the morning to a large fuel depot for tanker trucks, the backdrop for arguments from Bush and Silva that increasing alternative fuel use will lead to more jobs, a cleaner environment and greater independence from the whims of the oil market. In Brazil, nearly eight in 10 new cars already run on fuel made from sugar cane.
The agreement, signed Friday morning by Secretary of State Condoleezza Rice and her Brazilian counterpart, has the U.S. and Brazil joining forces to promote more ethanol use in nations lying between Brazil and the United States. It also creates quality standards for the alternative fuel.
Copyright 2018 The Associated Press. All rights reserved. This material may not be published, broadcast, rewritten or redistributed. We strive to uphold our values for every story published.