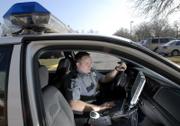 The Lawrence Police Department is seeking volunteers who want to learn more about how officers do their jobs as part of the 18th Citizens Academy.
"It was a great way for many people from different walks of life to state their concerns and offer suggestions," said Zila Sadler, a graduate of the 16th academy and a staff member of the Douglas County court system.
Sadler said the classes changed her opinions about how police officers tend to operate and "why they do what they do."
Area residents have until April 20 to apply for the 30-hour course that provides insight into police training, procedures, legal issues and basic philosophies. Applicants must be 18 years old, have no criminal history, pass a background check and provide three local references.
Patrolman Matthew McNemee will lead the 18th class. About 350 people have participated.
"Mostly they get a view of what we are doing, what we're about and how that actually can apply to their lives in general and how that can assist them," McNemee said.
During the classes, participants will learn about topics such as police department history, interviewing and evidence-collection techniques, homicide and drug investigations, vehicle stops and hostage negotiations.
Participants also will be able to pose questions to officers and Police Chief Ron Olin.
"It's tailored to how we do business. I think it's important because many of our successes can be tied to the public's involvement in what we do," said Sgt. Paul Fellers, police spokesman.
Classes are scheduled for every Tuesday and Thursday from May 8 through June 7. To get an application, call 830-7410 or visit the department's Web site, www.lawrencepolice.org.
Scott Zaremba, president of Zarco 66, graduated with the 16th academy class.
"The most interesting part of it is how they investigate crimes against people and how detailed they are and how diligent they are when something happens in our town (to someone) no matter who they are," Zaremba said.
Copyright 2018 The Lawrence Journal-World. All rights reserved. This material may not be published, broadcast, rewritten or redistributed. We strive to uphold our values for every story published.