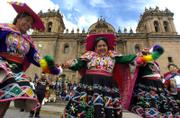 United Nations — U.N. Secretary-General Ban Ki-moon urged all nations Thursday to end "the pandemic" of violence against girls and women by working to change cultural practices and attitudes that tolerate beatings, sexual attacks and other abusive acts.
The new U.N. chief said most countries have by now passed laws proscribing such violence, but too often they don't enforce them.
"It is tolerated under the fallacious cover of cultural practices and norms, within the walls of the home," he said at the U.N. commemoration of International Women's Day. "Or it is used as a weapon in armed conflict, condoned through tacit silence and passivity by the state and the law enforcement community."
General Assembly President Sheikha Haya Rashed Al Khalifa, the legal adviser to Bahrain's Royal Court and the first woman to hold the General Assembly presidency since 1969, echoed Ban's concern about the domestic sphere.
"Most violence against women and girls happens at home - not only physical, but sexual and psychological violence too," she said. "To change attitudes, to prevent and prosecute violence against women and girls, we need to begin in the home."
Rashed said it is no longer acceptable to consider domestic violence a private matter.
"Criminal impunity must end. Every crime must be prosecuted," she said.
U.N. human rights chief Louise Arbour said "violence against women is rightly termed the most common but least punished crime in the world."
A recent World Health Organization study of 71 countries found that 23 percent to 49 percent of women suffered violence at the hands of their intimate partners, she said. UNICEF has reported that 130 million girls and women have undergone genital mutilation, a practice performed primarily in parts of sub-Saharan Africa and the Middle East that is intended to deny women sexual pleasure.
According to the U.N. Population Fund, 5,000 women die every year in "honor killings" perpetrated by male relatives to restore family honor after women have been raped, had affairs out of wedlock or married against the family's wishes.
Arbour said that according to some estimates fewer than 5 percent of rape prosecutions lead to convictions globally, partly because the majority of cases place emphasis on the conduct of the woman and not on that of the perpetrators.
She added that while rape, genital mutilation, spousal and domestic abuse, stoning and burning of women and girls occasionally grab headlines and provoke outrage, "female infanticide and systematic neglect of girls all too frequently go unnoticed or are left unaddressed."
"In recent years, we have seen some progress in the struggle to end the pandemic that violence against women represents," Ban said. "We can bring the scourge of violence against women out into the open, by discussing it openly at the United Nations."
To loud applause, Ban encouraged the 192 U.N. member states to support a recommendation of a high-level panel to merge the three U.N. bodies promoting equality for women into a single well-funded organization with higher status led by an undersecretary-general.
Copyright 2018 The Associated Press. All rights reserved. This material may not be published, broadcast, rewritten or redistributed. We strive to uphold our values for every story published.