At the end of a Big 12 Conference regular season brimming with story lines and intriguing subplots, Kansas University (27-4 overall, 14-2 Big 12) finished one game in front of No. 8 Texas A&M; (25-5, 13-3) and two in front of Kevin Durant and the Texas (22-8, 12-4).
Joining those three with first-round byes in the conference tourney, and one of the Big 12's best stories this season, will be Kansas State. Since they'd never finished higher than seventh, the long-woeful Wildcats had never gotten a first-round bye.
But a 72-61 victory over Oklahoma on Saturday left them 21-10 overall and a solid fourth in the league at 10-6 in Bob Huggins' first season as head coach.
Huggins, by far the most experienced of the six new head coaches to enter the league this year, was also the only one to have a winning conference record.
Oklahoma State's Sean Sutton (20-10, 6-9) was the only other new coach with an overall winning mark, although that must be small consolation. The Cowboys started their first season under Eddie's son 15-1, and then a lack of depth and other shortcomings turned a promising season to ruin.
The Cowboys and Nebraska will not conclude their regular season until they meet on Monday in a game that was postponed because of bad weather.
But Oklahoma State even closed out their home season amid a shameful controversy when Mario Boggan was seen head-butting Kansas State's Cartier Martin and got ejected.
He was then suspended for the last scheduled regular season game, which turned out to be an 86-82 loss at Baylor. The makeup will be on Monday.
Speaking of the Bears, they came oh, so close a number of times but still haven't won on the road in what must seen to them like a lifetime. Nevertheless, Scott Drew's team showed signs of finally recovering from the punishing NCAA sanctions for infractions committed under former coach Dave Bliss and will go into the Big 12 tourney 14-15 and 4-12.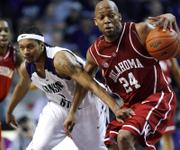 That's good for next-to-last. Dead last belongs to Colorado.
But the Buffs gave their die-hard fans and their outgoing coach something to feel good about. On Saturday, in Ricardo Patton's final game in Boulder, they gave him a winning sendoff by beating Nebraska 73-69 on Kal Bay's 3-pointer with 25 seconds left.
Colorado (7-19, 3-13) ended a six-game losing streak and dropped Nebraska under first-year head coach Doc Sadler to 16-13, 5-10.
The Big 12 seems like a very good bet to get four teams in the NCAA tourney. No team that ever had a first-round bye in the conference tourney failed to get an NCAA bid. But they'll be hoping for a fifth as well, and that almost certainly would be Texas Tech.
In the regular season in which the Red Raiders made Bob Knight the winningest major college coach of all time, Tech finished 20-11, 9-7, capped by a 63-61 win at Iowa State (15-15, 6-10).
Texas A&M;, the only Big 12 team to beat Kansas in Allen Fieldhouse this year, ended its regular season with a 94-78 victory over Missouri, which ended its first regular season under Mike Anderson 18-11 and 7-8.
The schedule for the first round on Thursday is Iowa State vs. Oklahoma, Texas Tech vs. Colorado, Oklahoma State vs. Nebraska and Missouri vs. Baylor.
Kansas will play the Iowa State-Oklahoma winner, Kansas State the victor between Texas Tech and Colorado, Texas A&M; the Oklahoma State-Nebraska winner and Texas the winner between Missouri and Baylor.
Copyright 2018 The Associated Press. All rights reserved. This material may not be published, broadcast, rewritten or redistributed. We strive to uphold our values for every story published.