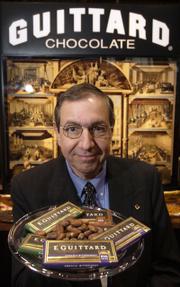 Washington — Call it chocolate with a pedigree.
Like a good Bordeaux or Chianti, some chocolate comes from a particular place - the Indonesian island of Java or Venezuela's Sur del Lago, for example.
As with wine grapes, the source of cacao beans is supposed to result in distinct flavors and aromas. Chocolate from Colombia might seem peppery while chocolate from Venezuela might smell like vanilla.
"It's like colors on a palette," says Gary Guittard, president and chief executive of San Francisco's Guittard Chocolate Company. "There is a tremendous parallel between wine and chocolate."
He mentions terroir (pronounced tehr-WAHR), a French word used for wine and coffee that translates loosely as "taste of the earth." The idea is that beans grown near a vanilla orchid plantation may carry notes of vanilla, depending on fermentation and processing.
Guittard was among the first U.S. companies to make "single-origin" chocolate, which had been available in Europe for many years. The term refers to chocolate made from beans from a specific region or even a single farm. Most choices today are dark chocolate, though milk chocolate varieties are produced.
Like other single-origin chocolate, Guittard's is sold in upscale supermarkets and specialty shops.
Until recently, high-end retailers such as Whole Foods Market have been the province of pedigreed chocolate.
But this year, Hershey's began making single-origin bars that are sold by Wal-Mart Stores Inc., Target Corp. and most grocery stores.
"It's all about the exploration of chocolate and learning about different cacao levels and how that influences flavor, as well as the origin of the beans," says Tom Hernquist, senior vice president of the Hershey Co., the country's biggest chocolate company.
Labels on single-origin chocolate say how much cocoa - really cacao - the chocolate contains. Cacao percentage has become important as people explore the potential health benefits of eating dark chocolate.
Cocoa beans have natural antioxidant compounds called flavanols. Many studies suggest flavanols help ward off vascular disease, which can cause heart attacks, strokes, diabetes, dementia and hypertension. A Hershey-funded study in 2005 found the more cacao in chocolate, the higher the antioxidant levels.
The higher the cacao percentage, the higher the price tag. A giant-size 5-oz. Hershey's bar costs $1.59 - 32 cents an ounce. Hershey's single-origin bars cost $3.29 for a 3.5-oz bar - 94 cents an ounce. Guittard chocolate costs $1 for a 10-gram bar - $2.86 an ounce.
People want higher-end chocolate with more distinctive flavors, Hernquist says. Baby Boomers are aging, have more disposable income and are looking for quality over quantity, he says.
In pursuit of those high-end consumers, Hershey's recently purchased three premium chocolate companies, Scharffen Berger Chocolate Maker Inc., Joseph Schmidt Confections Inc. and Dagoba Organic Chocolate.
Wine drinkers are also trading up. The strongest sales growth over the past year has been in wines priced $12 to $15, according to the marketing information company ACNielsen.
Part of the fun of eating single-origin chocolate is comparing chocolate from different places.
The various flavor notes can be subtle and harder to detect than in wine, so companies are providing guidance.
Hershey's bar made of beans from the African island of Sao Tome has "hints of aromatic coffee," according to its package. Guittard provides a pocket guide with its tasting kit of bars from Venezuela, Madagascar, Ecuador and Colombia.
Industry consultant Joan Steuer describes how to do the chocolate version of a wine tasting:
¢ First, notice whether the chocolate has a high gloss or sheen, an indication of quality. Listen as you break it to hear the snap, then smell the chocolate to see if you can detect specific aromas.
¢ Then put the chocolate in your mouth and hold it against the roof of your mouth. Is it creamy? Smooth? Chalky? Move it from side to side as different notes - perhaps fruity, toasty or tart - come through.
¢ Unlike wine tasting, do not spit out the chocolate, Steuer says with a laugh. But do not bite it. "These are bars you really should let melt in your mouth and not bite," she says. "We're tasting, not just eating.
"This is not chocolate to be gobbled," she says. "This is chocolate to be savored."
Copyright 2018 The Associated Press. All rights reserved. This material may not be published, broadcast, rewritten or redistributed. We strive to uphold our values for every story published.