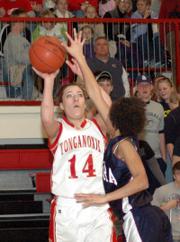 Tonganoxie — Ali Pistora simply couldn't help but show the waterworks. The Tonganoxie High senior had just played her last basketball game in the Tonganoxie gym - and well enough to make a return trip to the Class 4A state tournament in Salina.
"It's a really great feeling. I'm glad to go back," said a choked up Pistora following a 46-34 victory over Eudora in the sub-state final. "We've been trying to work for it a long time and then it's just dreams come true, I guess."
But Eudora didn't make it easy for Pistora, who scored a game-high 13 points, and her teammates. The Cardinals - the six seed that had knocked off both the No. 2 and No. 3 seeds to advance to the finals - trailed by only three points heading into the final quarter thanks in part to Haley Epperson's team-high seven points.
However, Eudora only mustered two points in the final period while the Chieftains put up 11, most of them coming from late-game free throws.
"We had about five possessions (late) where we just kind of got a little bit rattled, and those are pretty crucial possessions at the end," Eudora coach Ryan Luke said. "But overall, it was just a great effort from the girls, and that's the whole season, top to bottom. I thought they really bought into everything toward the end and made a run for it, but we just came up a little short."
The Chieftains will play their first-round state game Thursday, but the opponent and time will not be made available until the final seeding is made. They will be one of the top two seeds, having just lost one game - matched only by Holton, which defeated Topeka Hayden, 59-49, to advance to state.
"We had trouble finding the basket today, but we hung in there ... and told them that a game like that is going to help us a lot when we go out to Salina," Tonganoxie coach Randy Kraft said. "It wouldn't have been nearly the contest out there for us if we just walked through this one, so hopefully it gets us ready for next week."
Piper 41, Baldwin boys 39
Tears were flowing in the Baldwin boys basketball huddle for a different reason Saturday.
After fighting throughout the game just to keep within striking distance of Piper in the sub-state final, a last-second three-point attempt by Blake Wieden came up short in a 41-39 loss.
"I had no doubt it would be a close game tonight," Baldwin coach Eric Toot said. "I thought (coming in) we had a really good shot to win - and we did - we just came up a little bit short. We've been in a lot of close games, and tonight we just didn't quite have enough in the end there to pull it out."
Wieden and Drew Berg, who had a team-high 12 points, each hit a big three-pointer in the final minute to get it close enough that the final three could have punched a ticket to Salina.
Although the Bulldogs turned the ball over 15 times, Toot said his boys handled the Pirates' defense fairly well.
"They played defense, but, you know, I thought we did a good job executing. We just probably didn't shoot the ball as well as we needed to tonight," said Toot, whose team shot 46 percent for the game, but was just 5-of-15 in the second half.
Copyright 2018 The Lawrence Journal-World. All rights reserved. This material may not be published, broadcast, rewritten or redistributed. We strive to uphold our values for every story published.