Photo Gallery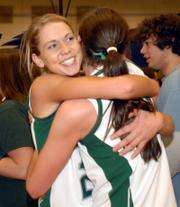 Free State vs. Lawrence High Sub-State
Olathe — The Free State High student section enveloped the FSHS girls basketball team as the players held their Class 6A sub-state tournament hardware.
But the girls did not scream. They did not jump up and down.
"Show some enthusiasm," a Firebird fan yelled.
If Saturday's muted postgame celebration looked as if the Firebirds had been there, done that, there's a reason.
Free State beat Lawrence High, 36-30, in the sub-state championship game at Olathe Northwest to advance to state for the second consecutive year.
"We didn't go into it as the underdog like we did last year," Free State's Jenna Brantley said. "We kind of knew that we deserved it."
For second-seeded Free State, the victory also represented its third this season against crosstown rival Lawrence High, the No. 3 seed.
"Everybody kept saying it's really hard to beat a team two times, but it's even harder to beat a team three times," said Free State's Lauren Kimball, who led all scorers with 12. "We were just ready for that."
The Firebirds exerted control from the outset. Kimball scored on a layup after Free State secured the opening tip to trigger a 7-0 run to the start the first quarter.
Brantley scored six of her 10 points during the period.
LHS committed six turnovers in the first quarter, including three in the first 21â2 minutes.
After trailing early in the first half of both of the previous games against LHS, Free State coach Bryan Duncan emphasized starting strong.
"We just came out ready to go," Kimball said. "We were a lot more calm. We weren't really focused on the intracity rivalry."
Lions guard Hannah Somers, who attended Free State last year and finished with eight points on the day, scored all of Lawrence High's six points in the first quarter, including a quarter-ending buzzer-beater to evoke memories of her near-half-court shot that allowed LHS (14-8) to advance to the second round of sub-state.
More importantly, however, Taylor Bird, the Lions' leading scorer and best playmaker, picked up her second foul with 39.2 seconds left in the quarter and scored just one point all game.
"She's a great player," Duncan said. "Obviously, they wanted her on the floor."
The Firebirds (16-6) led 25-18 at halftime, but LHS crept back. Free State looked static on offense and scored only two points during the third quarter, which came on a Kelsey Harrison basket with 12 seconds left. Duncan said his team did not try to milk clock and credited the Lions' defense.
"We really wanted to keep attacking," Duncan said. "They did play very good defense, and we just had a difficult time finding easy buckets."
A turning point came when Bird missed a layup, which would have tied the game, and subsequently committed her third foul with 1:59 left.
LHS never tied or led, as Kimball scored the first two baskets of the fourth quarter. Harrison, who connected on eight of 10 free throws, sealed the outcome from the free-throw line.
"Kelsey's been clutch for us all year," Duncan said. "We really expect her to do that, and you could just see in her eyes that she was going to make sure that things worked out for us."
Things also worked out on the defensive end, as the Firebirds forced 15 turnovers. Their man-to-man defense was so effective they rarely used the press, which typically suffocates opponents during the second half.
With the victory against LHS, the Free State girls joined their male counterparts, who qualified for state Friday night. Spectators for Saturday's game included FSHS boys teammates Nick Devin, Christian Ballard, Kyle Schreiner, Marcus Spates and Kris Wilson. Schreiner kissed Brantley on the cheek during the postgame celebration.
"I'm really excited that they were all able to come to our game tonight," Brantley said. "We all went to their game last night, and we'll probably all hang out tonight and celebrate together."
Copyright 2018 The Lawrence Journal-World. All rights reserved. This material may not be published, broadcast, rewritten or redistributed. We strive to uphold our values for every story published.