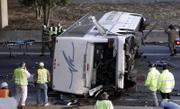 Atlanta — A small college in Ohio was thrown into mourning Friday after a bus carrying the baseball team tumbled over the side of a highway overpass and slammed onto the pavement 30 feet below, killing four students, the driver and his wife.
The team from the close-knit, Mennonite-affiliated Bluffton University was making its annual spring training trip to Florida before daybreak when the charter bus crashed, scattering bags of baseball equipment across the road and splattering blood on the overpass. Some of the athletes climbed out the roof escape hatch, dazed and bloody.
"I just looked out and saw the road coming up at me. I remember the catcher tapping me on the head, telling me to get out because there was gas all over," said A.J. Ramthun, an 18-year-old second-baseman from Springfield, Ohio, who was asleep in a window seat and suffered a broken collarbone and cuts on his face from broken glass. "I heard some guys crying, 'I'm stuck! I'm stuck!"'
Investigators said the driver apparently mistook an exit ramp on Interstate 75 for a lane and went into the curve at full speed. It was dark at the time, but the weather was clear.
On the 1,150-student campus in Bluffton, about 50 miles south of Toledo, students and community residents - some wiping away tears - filled the gymnasium to grieve and learn more about what happened. When news of the crash appeared on television, students desperately tried to reach some of the athletes on their cell phones.
Sophomore Courtney Minnich said that at a college as small as Bluffton, "even if you didn't know everybody, it will hurt, because you've seen them on campus."
Megan Barker, a sophomore, said she knew just about everyone on the team and described them as "a fun-loving group of guys." She added: "They live as a family."
Classes were canceled, along with other sports trips that had been scheduled during next week's spring break. A candlelight vigil was held Friday evening. Airlines also arranged for the players' parents to fly to Atlanta for free.
The university identified the victims as sophomores David Betts and Tyler Williams; freshmen Scott Harmon and Cody Holp; bus driver Jerome Niemeyer; and his wife, Jean Niemeyer, all from Ohio.
Beyond the six killed, 28 players and their coach, James Grandey, 29, were taken to the hospital.
He and six players were reported in serious or critical condition; many of the rest soon were released. The players' injuries included broken bones, cuts and bruises.
Copyright 2018 The Associated Press. All rights reserved. This material may not be published, broadcast, rewritten or redistributed. We strive to uphold our values for every story published.