Shooting off rockets, making to-scale comets and examining stars were just some of the activities children participated in Wednesday at the Kansas University Natural History Museum.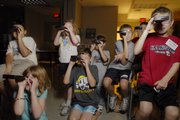 About 10 children learned about various aspects of space and the solar system as part of the museum's daylong Space Odyssey camp.
Dawn Kirchner, an instructor, said the camp allowed children to learn information they may not be familiar with.
"We cover a lot of topics that students don't get to have during the normal school year," she said. "Teachers only have so much time."
Larry Magee, of Lawrence, said he had taken his son, Gabe, to several of the museum's summer science camps during the past few years.
"This is one of the few camps in this area about science, and he really enjoys it," Magee said.
Gabe said he had fun at the camp and enjoyed learning about the different space aspects, including black holes and a new disputed planet called Senda.
He said either shooting off rockets or making the comet out of craft materials was his favorite part of the day.
The Space Odyssey camp is one of six daylong camps that aim to educate children, ages 8-11, about science. The camps cover topics such as dinosaurs, geology, forensic science and outer space.
Kirchner said the camps gave children the opportunity to receive hands-on education while having fun.
"Just getting to do the activities with the children is real enjoyable," Kirchner said. "I love science, and getting kids excited about science is just an added bonus."
The summer science camps will end today with a session about aquatic biology. Kirchner said the day will be spent learning about the importance of water and examining different aquatic habitats at the Baker Wetlands in eastern Lawrence and Deer Creek at Clinton Lake.
Gabe said he will attend the camp today as well.
"I'm looking forward to catching those little critters at the wetlands," he said.
Copyright 2018 The Lawrence Journal-World. All rights reserved. This material may not be published, broadcast, rewritten or redistributed. We strive to uphold our values for every story published.