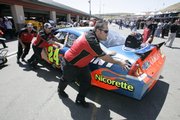 Sonoma, Calif. — The cars of defending NASCAR champion Jimmie Johnson and series points leader Jeff Gordon failed inspection and were barred from all activity Friday at Infineon Raceway, including qualifying.
NASCAR said the No. 24 and No. 48 Chevrolets, both owned by Hendrick Motorsports, had modifications to the front fenders that were deemed illegal during morning inspection.
The Hendrick crews will be allowed to fix them and they can race in Sunday's Toyota/Save Mart 350, although starting from the rear of the 43-car field. Gordon, the four-time series champion, is the defending race winner.
Doug Duchardt, vice president of development for Hendrick, called the modifications an honest mistake.
"We've been evolving and this was just the latest evolution of what we've been done," he said. "Our understanding is that our cars fit the templates but that they were outside of what they would like to see within the templates."
Gordon came to Sonoma after his wife gave birth to the couple's first child, a daughter, on Wednesday.
"Well, obviously, nothing's going to ruin my day or weekend," Gordon said. "I'm on cloud nine. This has obviously been pretty devastating news at the race track. ... This definitely puts us in a box and we're going to have to work our way out of it."
The five-time Sonoma winner said pit strategy was going to be "extremely important."
"We're one of the best teams out there," he said. "I love the road courses and I know these guys have brought a great race car and I'm looking forward to getting out there, hopefully sometime tomorrow, and seeing what we've got for them on Sunday.
Johnson echoed his teammate and the co-owner of his car.
"We're going to start at the back and work our way forward," he said. "A lot of road course racing really falls into the strategy of the race and we'll just have to make the most of our poor track position to find the strategy and work our way up for a solid finish."
This is the first road race for NASCAR's new Car of Tomorrow, a bigger, bulkier and reputedly safer car that has been in development for seven years. It has run in six races this season, all on ovals.
"It's important to know that this is a Car of Tomorrow penalty," NASCAR spokesman Ramsey Poston said. "The inspection process and NASCAR's reaction to violations to the Car of Tomorrow violations are going to be more severe. We're going to keep this car in check.
"It's important to know that all cars in the field are starting out equal and all have the same opportunity to win as the other."
Copyright 2018 The Associated Press. All rights reserved. This material may not be published, broadcast, rewritten or redistributed. We strive to uphold our values for every story published.