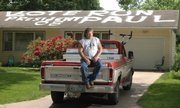 One Lawrence man believes the national media are ignoring his presidential candidate of choice.
So for a few days he's using a neighborhood rooftop to drum up support for Republican Congressman Ron Paul, of Texas.
On Sunday, William Burlbaw, a painter and handyman, sprayed "Vote Ron Paul President 08" with white latex exterior paint in three places on the shingles that face the street from the home he uses as a mailing address at 1003 W. 20th Terrace.
The roof is getting replaced Wednesday; the home's owner is his friend Dana Barnett, who gave Burlbaw permission to use the house as a political message board for a few days.
"The more people that know about this man, the more chance we've got of getting our constitutional rights back," said Burlbaw, a critic of President Bush who says he's an independent.
Paul, the Libertarian Party's presidential nominee in 1988, has become popular on the Internet, where Burlbaw said he found out about his campaign.
Paul's message of withdrawing from Iraq, limiting the size of the federal government and securing the borders if elected has drawn Burlbaw to support him.
Since Sunday, several neighbors have given Burlbaw a "thumbs up" for the idea, he said. Others passing through seemed to think it was vandalism or didn't know about Paul, so Burlbaw has offered them fliers he carries.
At least one neighbor seemed concerned so far, but Burlbaw said most people have been understanding because the shingles will be removed Wednesday.
The neighborhood's longtime mail carrier said he'd never seen anything like it. "No, not like that. That's a great idea," John Wulf said.
One neighbor said he didn't mind the message.
"He's got the right to make a statement, like everyone," Ryan Ogle said.
Ted Frederickson, a Kansas University journalism professor, said there is court precedent that can prevent government from making residents remove reasonably sized political signs, but things may be different for large and bright signs.
He also said that because the neighborhood is close to KU's campus, it's less likely to gain strong criticism right away.
"I don't think people are going to hit the roof over it," said Frederickson, who teaches a First Amendment course.
Copyright 2018 The Lawrence Journal-World. All rights reserved. This material may not be published, broadcast, rewritten or redistributed. We strive to uphold our values for every story published.