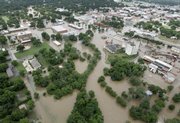 Gainesville, Texas — Torrential overnight rainfall flooded a handful of North Texas towns Monday, killing at least five people and stranding residents and their pets on the roofs of their homes.
A 5-year-old girl and her grandmother were swept to their deaths after the family's mobile home was carried off its foundation and lodged against a bridge above a swollen creek in this city along the Oklahoma border, said Cpl. Mike Linnell of the Texas Department of Public Safety.
The girl's 2-year-old sister was among at least five people still missing in the Gainesville area.
In the Fort Worth suburb of Haltom City, a 4-year-old girl died after her family attempted to escaped the flooding in a boat that floated by, but it flipped over and the girl was lost into the rushing water, KTVT-TV reported.
The girl's mother, Natasha Collins, told KXAS-TV of Dallas that the last time she saw her daughter was "when the current took her out of my arms. We reached the boat, and the boat capsized."
Rescue crews arrived later to help the Collins family. Alexanderia Collins' body was found more than two hours later.
A woman died in Sherman, about 60 miles northwest of Dallas, after her car stalled in rising water and was swept away, Sherman police Sgt. Bruce Dawsey said. A 74-year-old man also died in Grayson County after driving into high water.
About 125 residents of a Sherman nursing home were evacuated, and an unknown number of people were rescued from an office building where the roof started caving in, Dawsey said.
In Gainesville, aerial video showed families awaiting rescue on their roofs, some having hacked their way to the outside from their attics. Some were joined by their dogs. Three mobile homes were washed out of the park.
About 500 homes were flooded in and around the city. At one point, about 450 displaced residents had sought refuge at two temporary shelters. That number dwindled throughout the day as many arranged to stay with friends and relatives.
About 100 mobile homes in Haltom City were inundated and many were washed off their foundations, emergency officials said.
"When I looked out the window, water was up to the bottom of the window and the current was so fast houses were washing away," said Haltom City resident Rachel Hawkes. "You could hear people screaming but we couldn't get out to help."
The National Weather Service said rain fell at a rate of an inch every 15 minutes in some places early Monday.
"We get heavy rains in North Texas, but the rate, the amount, the duration and the coverage of this are just amazing," said Gary Woodall, the warning-coordination meteorologist for the weather service office in Fort Worth.
Only isolated thunderstorms were forecast in the area today.
Copyright 2018 The Associated Press. All rights reserved. This material may not be published, broadcast, rewritten or redistributed. We strive to uphold our values for every story published.