Topeka — Jennifer Townsend waited eagerly for the opportunity to embrace and kiss her husband, who spent the last year defending the largest military base complex in Iraq.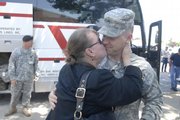 "I'm very overwhelmed right now," she said. "I'm really excited to see my husband."
Her husband, Sgt. 1st Class Terry Townsend, 37, of Topeka, was among about 50 Kansas National Guard soldiers who returned home to cheers and applause Saturday.
The couple hugged. They kissed. Tears streamed down Jennifer Townsend's cheek.
"Overpowering emotion," said Terry Townsend. "All the sudden you're just a few feet away from them."
The soldiers were brought to Hayden High School in Topeka for a welcome home ceremony. Their charter bus was led by a large group of motorcyclists, known as the Patriot Guard Riders, a national military support group that started in Kansas.
Laura Edwards jumped up and down as the bus pulled in as she tried to catch a glimpse of her daughter, 1st Lt. Shannon Terry. It was the first time they would see one another in 15 months.
"I'm ecstatic, I'm so excited," said Edwards, who traveled from San Diego to greet her daughter.
The soldiers were a part of Task Force Tornado, 130th Field Artillery Brigade. They deployed to Fort McCoy, Wis., on April 4, 2006, for training. On June 29, they began protecting the Victory Base Complex in western Baghdad, home to more than 65,000 soldiers and personnel.
"Task Force Tornado completed (more than) 10,000 combat patrols, repelled numerous attacks to the perimeter, intercepted multiple attempts to bring explosives onto the Victory Base Complex, reacted to indirect fire attacks (and) established a counter-rocket and mortar system," said Maj. Andrew Parker during the welcome home ceremony.
"We've accomplished our mission," Terry said. "It's a very stressful job."
Lauren McKenney, a friend from Boston, met her in Topeka. The two planned to drive 1,600 miles to Terry's home in San Diego.
"We're going to 'road trip' it, see all the things I haven't seen for years," Terry said. "I'm excited for green grass."
Other soldiers were also excited to be home and ready to spend time with their friends and family.
Jennifer Townsend said she's happy about losing some of the additional tasks she took on while her husband was gone.
"He mowed the lawn," she said. "We have a big lawn."
"I know it's there," Terry Townsend replied. "I'm looking forward to the domestic duties."
Copyright 2018 The Lawrence Journal-World. All rights reserved. This material may not be published, broadcast, rewritten or redistributed. We strive to uphold our values for every story published.