Chad Roesler and Conrad Roberts kept reminding themselves - along with friends and media - that they were the 'old guys' in a dwindling field that was full of college kids for the Kansas Golf Association Four-Ball Championship.
At Alvamar Golf Course on Saturday - after having played a combined 104 holes of qualifying and match play the four previous days - Roberts and Roesler showed they still had the energy to compete against the young talents of Cameron Bishop and Ty Sanders by beating the Wichita State golfers 1-up in the 36-hole finals.
"All of these college kids don't know what it's like to ever give up or quit," Roesler said after the 10-hour match. "They just never stop, and it's never easy, and they never give you bogeys. You had to earn everything, and that's the way it's been our last three or four matches.
"So it's taken a lot of mental fortitude from the two of us - that don't normally practice mental fortitude - over the last few days. I think I'm going to wake up Sunday and be really excited about it. I'm really tired."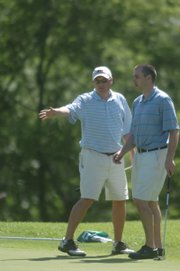 The first 18 holes of the match were a bit of a crap-shoot with Roberts and Roesler having the lead for just one hole.
Sanders and Bishop held onto a 1-up advantage after Bishop chipped in for birdie on No. 9. However, on No. 18 they recorded the only bogey of the day and squared the match.
"That match could have easily gotten out of hand in that first 18," Roberts said after a bogey-free match.
Things then began to look bleak for the pair of former Kansas University golfers on the front nine the second time through the course.
Four holes in, Sanders and Bishop held the biggest advantage of the match at 2-up.
But on the fifth-hole, Roesler chipped in from behind the green for a hazard save and the wind was knocked out of the Wichita State duo.
"We were dead-to-rights on five. Both of us hit it to the trees on the left and they were in good shape," said Roesler, who wouldn't lose a hole from there on out. "But then the lucky chip-in. That kind of thing happens in match play and it just completely turned the tides."
Their luck rolled over to a birdie by Roesler on the 26th hole, which ended a stretch of 13 holes without a birdie and was the first of five birdies on the final 11 holes.
On the very next hole, Roberts put in another birdie to the square the match with just nine holes remaining.
"We hung around and that's kind of what we've been doing the last two days - just sticking in the match," Roberts said. "And then towards the end when it really matters that's when we've been coming through and playing some of our best golf."
Roberts said some of their best golf came by playing off the strengths of Bishop and Sanders.
"One thing we had to our advantage, if you can think of it this way, is those kids hit the ball so damn far past us that we were hitting it to the greens first," Roberts said. "So we had the first opportunity to throw in some darts and we did on 10, 11 and 12 and so on."
Bishop did just about all that he could to win the championship with recording seven birdies. Unfortunately for the WSU tandem, four of the birdies were counteracted by birdies from the former KU players to halve the holes.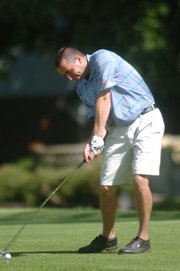 "Cameron was playing great. He was just throwing the ball at the flag all day," Roberts said.
To make things even more special for Roberts and Roesler was the fact that the championship came on their home course, in front of a group of their golfing buddies - who were quick to buy a couple rounds of beers for the champs.
"It's a lot of fun" Roberts said, "but you're also focused on them a little bit because you know if you make one mistake they're going to rip you about it - and that's so true."
Copyright 2018 The Lawrence Journal-World. All rights reserved. This material may not be published, broadcast, rewritten or redistributed. We strive to uphold our values for every story published.