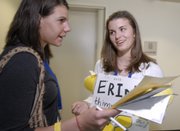 Lawrence teens participate
Lawrence participants at the 65th session of Sunflower Girls State are Justine Ahle and Arielle Bremby, Free State High School; and Aysylu Bitktimirova, Erin Thimmesch and Rachel VanHorn, Lawrence High School.
About 350 high school girls attending the 65th Sunflower Girls State event listened Monday to two women who have experienced what they are going through this week at Kansas University.
State Reps. Barbara Ballard, D-Lawrence, and Elaine Bowers, R-Concordia, who participated in Girls State as teens, spoke Monday about their experiences as Kansas legislators.
Ballard, who was elected to the state Legislature in 1992, offered some advice to the teens. People who run for office, she said, need to know why they are running and know that they may lose.
"Winning is so easy," she said. "All you have to do is smile. (But) people will remember how you lost more than how you won."
She also said politicians need to show respect and teamwork.
"I don't care how liberal, how conservative or how moderate a person is, I always try to show respect," Ballard said.
She encouraged every girl to pursue offices from state representative to U.S. president.
Bowers, a first-term representative, participated in Girls State in 1980. She said it was her experience at Girls State that led her to seek public office.
Bowers offered her own advice, telling the girls to always have faith in themselves, never destroy relationships and to find what inspires them, whether it be song, a book or anything else.
"If you take nothing else, remember this," she said. "You are just barely tapping your future potential."
Ballard and Bowers are two of many speakers lined up this week for Girls State, in which participants will experience what a state government is like. Girls will serve as representatives of fictional city, county and state legislatures or as judges, governor, lieutenant governor and members of the Cabinet.
Bonnie Boyer, director of publications for Girls State, said the event is a week of "hands-on government" where girls can learn leadership and teamwork.
The event mirrors many of the activities of politicians, including campaigning, legislative procedure and even activities such as begging for votes.
Erin Thimmesch, Lawrence, said her favorite part of the event so far was meeting new friends from throughout Kansas.
"The teamwork and camaraderie in our city is just amazing," she said. "It really enhances the experience because it gives us values."
Kelsey Jones, a 2007 graduate of Blue Valley West High School, participated last year and came back to Girls State to serve as assistant counselor.
"This is something important to know how everything works," Jones said. "It gives you respect for other people who are in office."
Copyright 2018 The Lawrence Journal-World. All rights reserved. This material may not be published, broadcast, rewritten or redistributed. We strive to uphold our values for every story published.