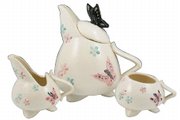 Tea parties are back, but in a new form. Home-based Victorian tea parties for birthdays or wedding showers, complete with elaborate food and huge Victorian hats, are in style. Tea drinking has changed since tea was first served in London in about 1650. Legend goes that the first tea drinkers boiled the leaves, threw away the water and ate the bitter leaves. They soon learned a better way, steeping the tea leaves in hot water, adding milk and sugar and serving the flavored drink in small cups. The Chinese drank room-temperature tea and used cups with no handles. Europeans and Americans preferred the drink hot and were using cups with handles by the 19th century. A saucer was added to protect the table from the hot cup. Teapots of metal were made with insulating inserts in the handles so no one was burned by a hot handle.
Current prices
Current prices are recorded from antiques shows, flea markets, sales and auctions throughout the United States. Prices vary in different locations because of local economic conditions.¢ Handheld stereoscope, polished cherry hood, sliding card holder, rotating lenses, ebonized mounts, pat. April 23, 1889, $95.¢ Li'l Abner's Shmoo ashtray, painted plaster, glass-dish insert, 1940s, 4 1/2 inches, $175.¢ Campbells Kids lunchbox, metal, pictures of Kids in various sports activities, American Thermos, 1959, $200.¢ Topsy-Turvy doll, cloth, black and white, molded and painted faces, black girl in red, white girl in red and white gingham, Bruckner, c. 1900, 11 inches, $205.¢ The Beatles drinking glasses set, head and shoulder of each Beatle in black, red musical note and instrument border, 1964, Nems Ent., London, set of four, 4 3/4 inches, $545.¢ Lalique centerpiece bowl, clear, base with four applied jade-green nude figures with flowing hair, signed, 8-by-10 inches, $575.¢ Student's copybook, dated 1842, mathematical formulae, fancy calligraphy alphabet, Page County, Va., 13 1/2-by-9 inches, $635.¢ Victorian dresser, walnut, marble top, carved crest, arched mirror, three drawers, carved pulls, 1880s, 87-by-43-by-19 inches, $635.¢ Got a taste for tea? Check out the new Journal-World column "My Cup of Tea," by Eileen Roddy, in Monday's Pulse section.
At first, teapots were small and round, like Chinese pots. Later they changed to pear-shape, then upside-down pear-shape, then drum-shape. Nineteenth-century pots became larger and were made in rounded shapes with either small feet or an added round base. Sugar came in a very big cone and had to be cut into chunks. A large sugar basket or bowl held the lumps. The hostess served the sugar - "One lump or two?" - with tongs. By the end of the 19th century, sugar was granulated and served with a spoon.
A complete tea set also had a small pitcher for milk, a tea strainer to put over the cup to catch any leaves, and a waste bowl for the accumulated tea leaves. There also could be a metal, usually silver, hot-water kettle with a burner to keep the water hot. Americans prefer lemon, not milk, in their tea, so they used an extra dish and a special lemon fork. The early tea equipment required a special tea table, usually round. By the 19th century, tea carts with wheels were popular, so the heavy tea set could be rolled into a room.
The tea party as we know it today started in the late 19th century, when small sandwiches and other food were offered at "high tea" to both men and women. It evolved into a supper with tea and alcoholic drinks. Tea sets are being made today in all the old shapes and sizes and in many new fanciful shapes. The modern tea set is much less elaborate and usually has just a tray, teapot, creamer and sugar.
Q: I have heard that you collect banana stickers. I have a Chiquita banana sticker printed in reverse. It shows Miss Chiquita holding up the wrong arm. Is my sticker valuable?
A: The short answer is "no." The longer answer is that Chiquita Brands International has used all kinds of banana stickers since 1963, the year individual stickers were introduced. On some, Miss Chiquita is holding up her left arm. On others, she's holding up her right arm. So your sticker is probably not a printing error. Even if it were, it wouldn't be worth much more than any other sticker. Our collection of banana stickers is a lot of fun, but it's not valuable.
Q: My glass-front china cabinet is marked "Gettysburg Furniture Co." Is it old?
A: The Gettysburg Furniture Co. of Gettysburg, Pa., made mainly reproduction oak furniture from 1902 until 1960.
Q: Do you know when the word "coin" was used as a mark on American silver?
A: The word "coin" or "dollar" was marked on American silver between about 1830 and 1860. The word indicated that the silver used to make a piece was of the same quality as the silver used for coins. The "sterling" quality standard and mark were not in general use in the United States until about 1860. Sterling silver is 925 of 1,000 parts silver. American coin silver has a slightly lower content of silver. From 1792 until 1837, it was 892/1,000; after 1837, it was 900/1,000. During the Colonial period, coin silver literally was made from melted-down coins. The flatware and hollow-ware made from coins helped secure a family's fortune. After all, a thief couldn't dispose of marked and engraved silver pieces as easily as a sack of coins.
Q: When we cleaned out my father's workshop after he died, we found an old blue bottle. It's embossed "Milk of Magnesia" and "Chas. H. Phillips Chemical Company." There's also a date, "Aug. 21, 1906." What can you tell us about the bottle?
A: Charles H. Phillips, a British-born entrepreneur who settled in Stamford, Conn., patented his laxative formula in 1873. He called it "Milk of Magnesia" because it contained magnesium and looked like milk. His Charles H. Phillips Chemical Co. produced and sold Phillips' Milk of Magnesia until 1923, when the family-owned business was sold to Sterling Drug. Today the brand is owned by Bayer Corp. The 1906 date on your bottle is a patent date, not the year the bottle was made. Your bottle, made between 1906 and 1923, sells today for a few dollars up to about $30, depending on the condition.
Tip: Don't load your dishwasher with vintage crystal, gold-decorated glass or china, dishes with crazed glaze, lacquered metal, wooden wares or serving pieces with handles made of bone, ivory or wood. None of these should be cleaned in a dishwasher. The hot water and heat will damage them.
¢The Kovels answer as many questions as possible through the column. By sending a letter with a question, you give full permission for use in the column or any other Kovel forum. Names and addresses will not be published. We cannot guarantee the return of any photograph, but if a stamped envelope is included, we will try. The volume of mail makes personal answers or appraisals impossible. Write to Kovels, (Lawrence Journal-World), King Features Syndicate, 300 W. 57th St., 15th Floor, New York, NY 10019.
Copyright 2018 The Lawrence Journal-World. All rights reserved. This material may not be published, broadcast, rewritten or redistributed. We strive to uphold our values for every story published.