Dallas — Flaming debris rained onto a busy highway during a series of explosions at a gas facility near the city's dense downtown area, injuring three people and rattling windows and buildings blocks away.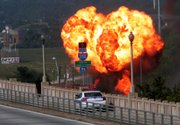 Two people working at the Southwest Industrial Gases Inc. facility were engulfed in the blast, Dallas fire department Lt. Joel Lavender said. Another man hurt his back while jumping out of his truck.
The explosions set off bursts of flames and a billowing stack of black smoke that could be seen for miles. Authorities evacuated a half-mile area and shut down portions of Interstates 30 and 35, where flaming debris ignited small grass fires next to the roads.
"I thought it was artillery. It was just coming just boom, boom, boom," said witness Tony Love, a former Army soldier.
Although much of the fire and smoke was gone by late Wednesday, Lavender said firefighters continued to battle hot spots at the site.
Parkland Hospital identified the two burn victims as Randal Bibb, 50, and Daniel McMurry, 56. Bibb was in serious condition and McMurry was in fair condition. The truck driver was treated and released from Methodist Dallas Medical Center.
The explosions began around 9:30 a.m. when a connector used to join acetylene tanks during the filling process malfunctioned, Lavender said.
McMurry, a co-owner of the plant, and Bibb tried keeping the cylinders cool with a fire hose in the dock area but a fire ignited.
A trailer at the facility's dock area housed 100,000 cubic feet of acetylene gas in individual containers before the explosion, authorities said.
Calls to a phone listing for Southwest Industrial Gases weren't answered. Since 1990, the company has operated at the urban site, which sits next to one of the city's most congested highway interchanges during rush hour.
All the closed interstates except one exit ramp were reopened Wednesday evening, said Texas Department of Transportation spokeswoman Kelli Petras.
The exploding tanks of acetylene, commonly used by welders, likely posed no risks to air quality, said Jan Malone, a spokeswoman for the Texas Commission on Environmental Quality. She said the Environmental Protection Agency would collect samples and run tests.
The company did not appear to have any agency violations, she said.
"If this had to happen, it's fortunate, because (acetylene) burns hot, quick and clean," Malone said.
Copyright 2017 The Associated Press. All rights reserved. This material may not be published, broadcast, rewritten or redistributed. We strive to uphold our values for every story published.