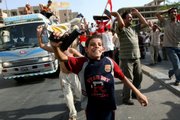 Baghdad — The dream run of Iraq's national soccer team captivated an otherwise despairing nation. But even in its moment of joy - the Iraqis are in the Asian Cup finals for the first time ever - violence struck Wednesday.
Two suicide bombings killed at least 50 cheering, dancing, flag-waving Iraqis celebrating their national triumph. More than 130 other revelers were wounded.
The attacks bore the hallmarks of Sunni militants who have fueled the violence tearing at the fragile fabric of Iraq for nearly four years. But these bombings, in parked cars less than an hour apart in separate corners of Baghdad, appeared designed to gain attention rather than target a particular sect.
An ice cream parlor was the backdrop for the first attack, about 6:30 p.m. A suicide attacker exploded his car in a crowd of people cheering near the al-Riwad shop in the predominantly Sunni Mansour neighborhood in west Baghdad, according to the Interior Ministry. At least 30 people were killed and 75 wounded, the ministry said.
The second suicide car bombing took place in the midst of dozens of vehicles filled with revelers near an Iraqi army checkpoint in the eastern district of Ghadeer, where an uneasy mix of Sunnis, Shiites and Christians live. At least 20 people died and nearly 60 were wounded, the ministry said.
The barbarity of Wednesday's bombings will be remembered for what they abruptly ended.
Ahmed Sattar, who makes a living selling kebabs on a sidewalk grill in the district, asked what could motivate the attacker.
"I can't imagine what I had seen," said the 28-year-old Shiite. "The terrorist changed the happiness to sorrow, sadness. The place of joy was converted to a massacre in a matter of seconds. I'm wondering why."
The revelers were celebrating Iraq's semifinal win over South Korea in the Malaysian capital of Kuala Lumpur on Wednesday. Iraq won a tense penalty shootout 4-3 after the two sides played to a scoreless draw in 90 minutes regulation and 30 minutes extra time.
Iraq will now play Saudi Arabia on Sunday in Jakarta, Indonesia for the championship.
Copyright 2017 The Associated Press. All rights reserved. This material may not be published, broadcast, rewritten or redistributed. We strive to uphold our values for every story published.