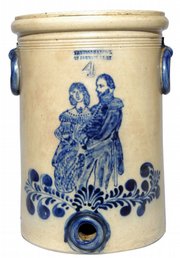 Stoneware crocks were made to store food or liquids for long or short periods of time. They were the Tupperware of the 19th century. Jugs found today originally had cork stoppers. Crocks were covered with bladders that were tied tight, or with leather, paper or cloth, or with a cork. They were sealed with wax, then resin or cement. Some had tops that did not fit tightly and these, too, were sealed with wax. Most foods also were preserved by the addition of salt, sugar, alcohol or vinegar. Crocks were expensive and were used over and over again. Many were made with blue cobalt designs that were applied before the stoneware crock was fired. Collectors want crocks with unusual designs. Birds and animals are popular. So are personalized designs that tell a story. A record-setting piece of stoneware, made about 1860, sold for $88,000. It's decorated with a portrait of a brigadier general and his wife. The couple lived in Vermont, where the water cooler was made. Few pieces of stoneware have portraits like this one.
Current prices
Current prices are recorded from antiques shows, flea markets, sales and auctions throughout the United States. Prices vary in different locations because of local economic conditions.Yosemite Tourist Guide, heavy paper, Ansel Adams photos, 1936, $65.¢ Wooden pond-sailing toy, solid wood hull, painted deck lines, metal keel, wooden spars, plastic sails, marked "Keystone," 1930s, 30-by-21-by-4 3/4 inches, $145.¢ Hudson Bay blanket, four-point, red with black stripes, tag, England, c. 1925, 84-by-68 inches, $245.¢ Advertising pot scraper, American-Maid Bread, yellow ground, red and blue letters, die-cut, loaf shape, 1 3/4 inches, $310.¢ Dazey churn, glass, "1-Qt., Dazey Churn & Mfg. Co., St. Louis, USA," 11 1/2 inches, $500.¢ "Paint Your Own Beatles Kit," paint by numbers, set of all four Beatles, Artistic Creations, 1960s, box, $580.¢ Owens pottery vase, foamy white glaze, two applied buttress handles at shoulder, impressed mark, 8 inches, $435.¢ Edwardian sterling-silver candlestick, square base, ribbed vase-form stems, removable drip pan, Sheffield, 1903, 9 1/2 inches, pair, $850.¢ Barbie heartbeat watch, dial features Barbie and Ken, heartbeat second hand, Bradley, 1960s, box, $950.¢ Barcelona chair, chrome-plated flat steel, leather strap construction, loose black leather cushions, late 1950s, 30-by-30-by-30 inches, $2,300.
Q: I bought a bedroom set from a neighbor who was moving. Inside the drawers there's a shield-shaped mark that reads "Link-Taylor." Can you tell me something about the manufacturer?
A: Henry Talmadge Link (1889-1983) took over the Dixie Furniture Co. in Lexington, N.C., in 1936. Dixie had been organized in 1901 to manufacture bedroom sets. Other men, including Frank Taylor, joined Link at Dixie, which eventually took up nine city blocks in Lexington. Link is credited with introducing mass-production methods to furniture assembly lines. In the 1950s, Dixie's owners decided to break the corporation up into four separate companies, each specializing in a different type of furniture. Link-Taylor was one of those new companies. It specialized in solid wood bedroom and dining-room furniture. In 1987 Masco Corp. of Michigan bought the four Lexington companies and merged them to form Lexington Furniture Industries. So your bedroom set was made between about 1950 and 1987. The company is still in business. Today it's known as Lexington Home Brands.
Q: My wool blanket was made by my grandparents from wool sheared from sheep on the family farm in Indiana. What should I do to preserve it?
A: Before washing it, test for colorfastness by putting the fabric between several layers of unprinted, white, absorbent paper towels. Use an eyedropper to apply a few drops of water to each color. If no color appears on the paper, it's OK to wash the blanket. Wash it gently by hand (no rubbing) in cold or lukewarm soft water. Use a wool-washing product. If your blanket is large, you might want to have it professionally dry-cleaned. Again, have it tested for colorfastness first. After cleaning, your blanket should be stored in an insect-proof container with a small amount of moth crystals, which need to be replaced annually. Be sure the blanket doesn't get damp.
Q: We have a Vindex toy stove and wonder how to restore it. Any suggestions?
A: Your toy dates from the 1930s and is valuable enough that you should not restore it unless you want to keep it as a family heirloom and don't care about value. Collectors want toys with original parts and paint, even if the paint is worn. Vindex toys were made from 1930 to 1938 by the National Sewing Machine Co. of Belvidere, Ill. The company started manufacturing toys and other goods during the Depression, hoping the new products would save the business. The name Vindex was used because it was the brand name for some of the company's early sewing machines. Most Vindex toys were farm toys, including John Deere tractors, plows and combines. Children won toys as prizes when they sold enough subscriptions to Farm Mechanics magazine. A Vindex toy stove like yours, in excellent condition, sold recently for just under $2,000.
Q: My great-aunt left me a china platter marked "W.H. Grindley & Co. Ltd., England, Reg. No. 737554." Can you tell us who made the platter and when?
A: W.H. Grindley & Co. ran two different potteries in Tunstall, Staffordshire, England, from 1880 until 1960, when the company was purchased by Alfred Clough Ltd. Grindley's mark included the abbreviation "Ltd." (for "Limited," similar to our "Inc.") starting in 1925. The registry number, assigned by the British patent office, dates the design to 1928. So platters like yours were made from about 1928 until they went out of style.
Q: What can you tell me about my pewter bowl? It's marked "Insico Pewter" with two crowns and an anchor.
A: Your bowl was made by the Derby Silver Co., a division of the International Silver Co. of Meriden, Conn. Derby was one of the original New England companies that formed the International Silver Co. in 1898. Insico is one of the marks it used on pewter.
¢
The Kovels answer as many questions as possible through the column. By sending a letter with a question, you give full permission for use in the column or any other Kovel forum. Names and addresses will not be published. We cannot guarantee the return of any photograph, but if a stamped envelope is included, we will try. The volume of mail makes personal answers or appraisals impossible. Write to Kovels, (Lawrence Journal-World), King Features Syndicate, 300 W. 57th St., 15th Floor, New York, NY 10019.
Copyright 2018 The Lawrence Journal-World. All rights reserved. This material may not be published, broadcast, rewritten or redistributed. We strive to uphold our values for every story published.