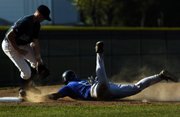 On June 13 the Lawrence Raiders accomplished a rarity, run-ruling their opponent in Game One before the opponent slammed the Raiders in the same fashion during the bottom half of the doubleheader.
The team almost suffered the same fate Wednesday at Free State High, defeating the Kansas City Barnstormers, 11-3, in five innings during the top half of the doubleheader and losing Game Two, 12-6, following a late rally.
"After winning a game pretty handily," Raiders coach Shaun Edmondson said, "you can't continue to think that game still matters. Now it's no longer relevant. You have to move on and have the same effort and everything in the second game. That's the challenge a lot of teams deal with in a doubleheader situation."
The first game started ominously for Lawrence (21-15). Starter Caleb Gress issued three walks and allowed two hits. But he stopped the bleeding at two runs by forcing a double play to strand three Barnstormers on base.
"I got off to a bad start," Gress said. "It could've been worse than that."
After the first inning, Gress' performance evened out. He emphasized his fastball and slider, working righthanders inside and lefthanders outside. He earned the win, allowing three runs in four innings of work.
"Caleb battled, kept us in a position where we could strike," Edmondson said.
The Raiders' offense also gave him a boost. Ben Wilson tripled home two runs during the first inning. Then Alex Hardman, Matthew Abel, Travis Sanders and John Novotny singled in the second inning as part of a six-run rally to give Lawrence a 9-2 lead.
"Their pitcher struggled," Gress said. "He was getting ground balls, but they were finding the holes, and that kept us going."
Drew Hulse also had a strong game, nabbing a deep fly ball and launching an extra base hit during the fourth inning. Hindered by wearing a knee brace for the first time, Hulse tripped between first and second base or he could have stretched the double into something more.
"It really restricted my movement," Hulse said. "Rounding the base I kind of shorted my steps more than I would usually and hit the dust. It's a little embarrassing."
Hulse also stumbled in Game Two, earning the loss after the Barnstormers scored eight runs against him in three innings.
The Barnstormers led 11-3 during the top of the fourth inning before the Raiders answered with three runs during their half of the inning.
"It's a good indicator of the team," Edmondson said. "We don't ever feel like we're out of games."
The Raiders managed just five hits that game but capitalized on eight walks and two Barnstormer errors.
"Our guys offensively had a pretty good approach," Edmondson said. "That's what we preach as a team that it's important to get on base. Whether you walk, get a hit or get hit, it doesn't matter."
Copyright 2018 The Lawrence Journal-World. All rights reserved. This material may not be published, broadcast, rewritten or redistributed. We strive to uphold our values for every story published.