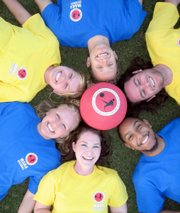 Washington — On a recent midafternoon, two park rangers take time off for a couple of cupcakes. Kristi Thiel, 30, and Lauren Gurniewicz, 27, share a cafe table, relaxing in the air conditioning and analyzing family, friendships and the food they eat.
The adults are unapologetic about their indulgence in youthful delights.
Gurniewicz has just finished a $3 gourmet chocolate-cream cupcake. "My mom always cooked," says Gurniewicz, who grew up in the homey Midwest. "And she baked cupcakes. That's part of the appeal."
Thiel is still working on her peanut-butter-on-chocolate cupcake. "I'm going to take some home," she says.
"And to drink," Gurniewicz adds, grinning, "I had a big glass of milk!"
The Cult of Kiddie Things is all around.
Consider: The World Adult Kickball Association - for those over 21 - was launched over beers in Washington a few years ago by a handful of men. Today it has more than 20,000 registered members nationwide who pay $60 apiece to belong. The annual open tournament, held in June in Centreville, Va., drew nearly 300 players.
Business Week reports that the Cartoon Network attracts higher overall ratings among adult viewers age 18 to 34 than CNN, MSNBC or any cable news channel. Disney World is the top adult vacation destination in the world. The average age of people who play video games is 33, according to the Entertainment Software Association. Cafes offer adult-size peanut-butter-and-jelly sandwiches.
The Fun Department
It's not enough for American adults to just be youthful anymore; now it seems many want to be kids. Culture observers are taking note of these immature instincts, using names like "kidults" and "adultescents." And cottage industries cater to their whims.
A Delaware company known as the Fun Department is paid to help corporations stage "recess" at work. Employees compete in elementary playground-type activities, such as relay racing, playing a giant version of Yahtzee and sweeping a football with a broom.
The two-year-old firm believes that child's play among co-workers "creates happy employees and supports team building, morale and motivation and fun for fun's sake," says its marketing maven, Jayla Boire. Juvenile behavior also helps companies recruit and retain talented people, she says. Companies engage in fierce competition for good employees, and "a sense of fun" is a big draw for young prospective workers.
The Fun Department uses splashy words like "funnertainment" and "funsters." "Funkillers," Boire explains, "are people who don't remember that they have a funny bone and they find it difficult to find their inner child. Our job is to 'out' the funkillers and bring them to recess."
Other Fun Department exercises include Silly String wars, squirt-gun games and "the Boss Toss," in which employees catapult a stick figure that looks like an executive into a trash can. The Web site lists DuPont and QVC among the company's clients.
Anything goes
What's going on here? "There is definitely something happening," says Christopher Noxon, 38, author of last year's "Rejuvenile: Kickball, Cartoons, Cupcakes and the Reinvention of the American Grown-up."
From his home in Los Angeles, Noxon says that adults are turning to child's play because "everything is up for grabs. Social norms have evaporated."
The change, he says, is "pervasive and cross-generational."
Not too long ago, society frowned on 40-year-old skateboarders or comic-book collectors. "Now they are celebrated," Noxon says. The shift came about through affluence and abundance. In his book, Noxon writes, "It's hard to nurture your inner child when you're struggling to keep food on the table."
Adults' attraction to childish things increased in the strange and uncertain aftermath of 9/11. Other factors play into the cultural change, Noxon writes. Looser hierarchies in the workplace lead to less conformity - "witness row upon row of cubicles piled high with lunchboxes, action figures and Beanie Babies." Changing roles at home allow parents of both genders to identify more closely with their children. And longer life spans "have kept us in tune with our childlike sides longer than ever."
Anything goes, Noxon says. People of every age are turning to things that gave them pleasure when they first discovered pleasure. And they are turning to things they were denied.
'Horribly wrong'
That's all well and good if grown-ups admire childlike objects and activities, says Mike Useem, of the University of Pennsylvania's Wharton business school. "You want to bring zest for life to the workplace - more energy, more verve."
The problems come, Useem says, when an adult in a position of power and authority traffics too much in childish activities. "When you hold a leadership position, people always bring assessments as to whether you have the character to hold the high office you occupy."
You don't trust immature people "to make big judgments in running companies or countries. The 'gravitas issue' is not one to be taken lightly."
In his 1998 book, "Grow Up! How Taking Responsibility Can Make You a Happy Adult," psychologist Frank Pittman writes, "Something has gone horribly wrong. ... Our times are enamored with youth; we seek to escape the confusion of social change by lustily celebrating the freedom of adolescence while dreading the still, calm contentment of maturity and age."
Adult fascination with childhood dates back a century or more, Noxon says. James M. Barrie's "Peter Pan" and Lewis Carroll's "Alice's Adventures in Wonderland" struck a chord with wistful grown-ups.
Ian Hall, 34, a Washington-area computer technician and avid kickballer, says he's looking for balance between the rigors of maturity - holding down a job, paying bills, owning a home - and the delights of childhood. "Maybe this is a healthy outlet people have found as opposed to slacking off completely."
Copyright 2018 The Lawrence Journal-World. All rights reserved. This material may not be published, broadcast, rewritten or redistributed. We strive to uphold our values for every story published.